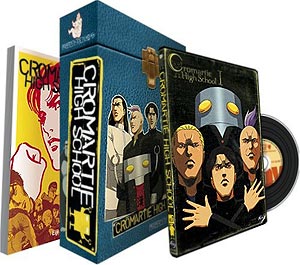 Remember that insane Geneon anime sale at Rightstuf a while back? Well, they're sorta doing it again, but with ADV stuff now. You can get 10 ADV dvds for $50 or 25 for $100. That's seriously cheap!
I have a weak will. Even though I have waaaayyyy too many anime dvds in my review queue as it is, I ordered this:
Cromartie is just a really fun series that I never saw all of. I would've ordered more Kino's Travels, but the last volume was already sold out! Wandaba Style was an anime that I had started out really liking a lot, but then it got licensed and the fansubs stopped.
There's a lot of good stuff, and it looks like it's selling out quick. So hurry up! Here's the official sale text from RightStuf:
Heat up your March with an abundance of savings on selected fan favorites from ADV Films! From now until March 11, take your pick from our hit list of ADV titles and bulk up your personal collection!

Choose the deal that's best for you:

Get 10 ADV titles for $50 (Use coupon code abundance10); OR
Get 25 ADV titles for $100 (Use coupon code abundance25)
Expires: March 11, 2007

And keep in mind that BOTH offers will net you FREE economy shipping to U.S. and Canadian destinations!

In addition to our standard restrictions*, this special event has a couple other rules to note:

To use these coupons, you cannot have any other items in your cart aside from items that qualify for the sale, PLUS you must have the exact number of items for the coupon you plan to use. (In other words: If you're looking to purchase some other items in addition to your "Abundance" coupon selections, you'll need to place a separate order.)

You cannot have duplicate items or multiple quantities of any single item in your cart. (This way no one customer can load up on all of the available inventory of a specific item. Fair for all and more savings to go around!)