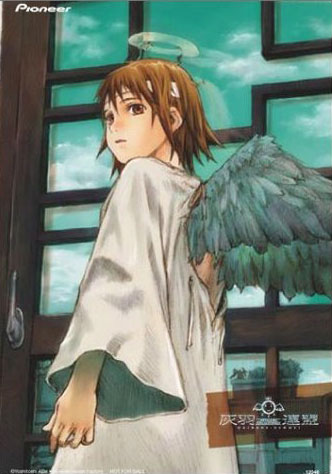 I'm not a big anime DVD buyer. In fact, I've never bought an anime DVD until today (tonight). Now that I think about it, I'm not a very big buyer of DVDs in general. Well, that anime DVD drought ended when I saw a bitchin' deal on the front page of RightStuf.
They called it the "Geneon's Bountiful Bargains!" sale. Basically, you can get 10 Geneon "things" for $50, or 25 things for $100. The things range from soundtrack cds to anime dvds and even some live action movies. Doing the math, getting 10 items means that each item is $5. That's cheap! One of the reasons I never bought anime DVDs was the price of DVDs. I decided to choose 10 things. I ended up ordering:
I've been hearing about comparisons between Haibane Renmei and Kamisama Kazoku for a while now, so I figured I should watch the series. I think I remember hearing good things about the Niea Under 7 anime too. I wanted to get the full series, since I hate having stuff unfinished.
Also, I bought Akira because I've never seen it before. Yeah, I know, I have an anime blog yet I've never seen Akira. I got Sakura Taisen the movie because there really has to be something behind jpmeyer's obsession with Sakura Taisen. Or maybe not. But I figured for $5, it's really no risk.
Stay tuned for reviews of these anime once I find some free time to watch them. If that ever happens…
Here's the actual sales pitch thing if you're interested:
Here's the sweetest deal you may see this season! Until October 1st, take your pick from a wide selection of Geneon's hottest DVD, CD, and UMD releases and pick them up en masse!

We've got two options available for you, get 10 great Geneon releases for $50 OR get 25 Geneon releases for $100! You don't even have to work the numbers to see how much you can save! Plus, don't forget that both offers will net you free economy shipping both in the US AND Canada (free shipping is based on the pre-coupon total, which is over the limit for both)!

Aside from the standard restrictions*, there is just one very important restriction to note: to use these coupons, you cannot have any other items in your cart aside from the items that qualify for the sale and you have to have the exact number of items for the coupon usage as well. In other words, if you're looking to purchase a few other items along with the selections you get with the coupon, you'll have to make a separate order. It's just a minor thing, really! Finally, you cannot have duplicate items or multiple quantities of the same item in your cart – this is to keep one customer or a store from loading up on all of the available inventory for an item – fair for all!

This offer is available from now until October 1st, 2006! * Certain restrictions apply, see below for details.

How? Just use the following reusable coupon codes when you check out through our online store:

10 Item Coupon Code: BOUNTY10

25 Item Coupon Code: BOUNTY25

Expires: 10/1/06 at 11:59 P.M. CST

Not sure what products are included in the sale? We've made it especially simple, just click on the small graphic reading "Bountiful Items", located on the right-hand side of our main page and you'll be able to page through the item listings with ease!

*Restrictions: To utilize this coupon, you must put the requisite number of items into your cart, with no other items included, and proceed to checkout. Upon completion of your order, you will see the total charge change to the promotional price. No other coupons or discounts may be applied to orders placed using this promotion. You will be charged for the total promotion price on your initial shipment for your order, and you may receive separate shipments to complete your order at our option. Once your order is placed, you cannot cancel the order or substitute items on your order, with the exception that you may substitute an item with another item which is also eligible for the promotion. Some titles are available only while supplies last. Should stock be exhausted for an item you ordered, you will be contacted by customer service and given the opportunity to substitute another eligible item.