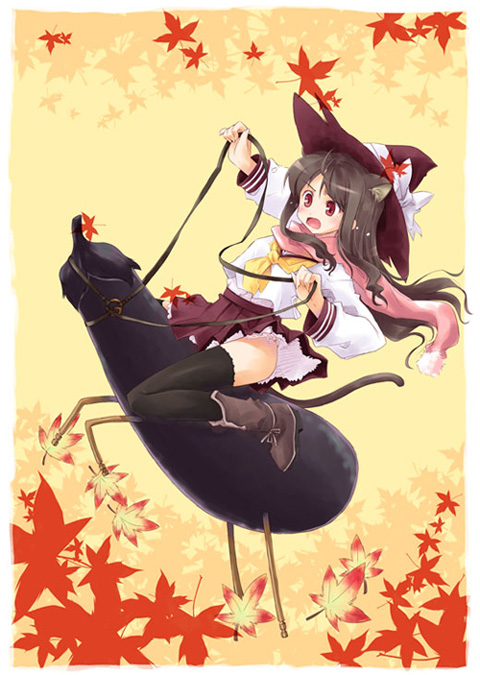 Happy New Year, everybody! I hope you all have dreams of Mt. Fuji, eggplants, and hawks! Apparently, if your first dream of the new year contains those things, you'll have good luck… Anyway, I figured I'd check out the anime resolution I made last year, and make up a new one for 2007.
My last year's resolution was to finish the anime that I started watching. I guess that in this case, "anime I started watching" should mean past the second or third episode, since I watch almost every first episode of anime, and there's no way I'm gonna watch every episode ever!
Looking at the list from last year, it's kinda sad that I still haven't finished Bakuretsu Tenshi, Full Metal Alchemist, Futakoi Alternative, Maburaho, Mezzo DSA, Okusama wa Mahou Shoujo, ROD The TV, Tenjou Tenge, or Tsukuyomi Moon Phase. I only finished like, 4 shows on that list! I think I deleted most of them anyway… I just noticed that almost all of those shows have been licensed. Coincidence?
As for the list of this years shows that I haven't finished, the list is long…
Honey and Clover (Season II)
Ouch… I attribute much of the series dropping to this past semester, where I wanted to do well so I could graduate (which I did). I'm also not including anime that aren't finished yet, though I'm seriously behind in a lot of the current ones. Also, School Rumble Second Semester doesn't count because it got licensed.
I actually did manage to finish a lot of shows, like Fate/stay night, Hantsuki, Kage Kara Mamoru, Kashimashi, Kamisama Kazoku, Magikano, Muteki Kanban Musume, Shakugan no Shana, Suzumiya Haruhi no Yuutsu, and Zero no Tsukaima! I guess I still need to work harder when it comes to finishing series. So part of my new year's anime resolution is to keep working at my backlog. I also have quite a few domestic releases to review, both purchased and received as review copies. Like the Sakura Wars, Akira, Haibane Renmei and NieA under Seven DVDs that I bought just hanging out on my computer… Couple that with some Negima, Moon Phase and Trinity Blood DVDs and we're talkin' about a serious backlog! I also have a lot of manga to review as well. I keep buying it, plus companies keep sending it to me for free to review! My life is hard, I know…
My real anime resolution, however, is to work on watching anime raw. I experimented with this during the Summer, but I got kind of lazy and gave up. Plus there weren't any anime that weren't being subbed that I really wanted to see. This year, I want to get better at Japanese (which might be hard since I'm not taking any classes) and start watching anime without subtitles. I have the Japanese grammar under my belt; it's just the vocab that could use a huge boost. Maybe jpmeyer and hinano can help…