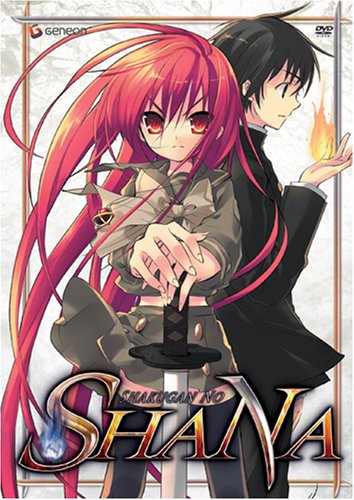 Way back when my blog was first starting, Shakugan no Shana was my first anime impressions post. Whoa! Today I'm reviewing the first DVD of Shakugan no Shana. It's pretty crazy seeing how far Basugasubakuhatsu's come since then.
DVD Blurb:
Yuji Sakai is about to learn that there is more to the world than going to school and finding a girlfriend when he meets a sword-wielding girl with fiery red eyes and flame colored hair. Denizens of the Crimson Realm are invading our world and its up to the Flame Haze, Shana to slay them.
However, when Yuji gets in the way of her sword, he learns that death is much more different than he imagined it would be. Experience their story as Yuji and Shana work together to defeat the Denizens of the Crimson World and learn more about each other and the worlds they are from.
Analysis:
I think the DVD Blurb and my first impressions post do a pretty good job of explaining Shakugan no Shana, so I won't repeat myself. Be sure and check that post out for screencaps of the first episode.
Shakugan no Shana is a pretty interesting anime since it's part action, drama and romance. Right now the action is dominant, though you can tell that Shana is starting to get feelings for Yuji. She just doesn't realize it yet.
Aside from the fights, this volume has a ton of exposition going on. We learn at the same time as Yuji what it means to be a torch, what a Flame Haze is, and what the Denizens of the Crimson World are up to. It's a lot to cram into your head, but once you get all the background, the anime can start rolling.
At first, Shakugan no Shana seems like a Bleach clone of sorts. Personally I think it's a bit deeper and less shounen-y. Shana is equal parts cute, strong, naive and intelligent. She's also pretty much your prototypical tsundere character. I don't know about you, but I enjoy seeing her get angry at Yuji, then getting love-love a few minutes later.
Character Designs and Art:
So like I mentioned before, Shana is way too cute. I like her voice actor, Rie Kugimiya. The "urusai urusai urusai" is freaking cute! Also, Margery Daw is a super hot meganekko. And Yoshida isn't bad either. There's also a couple of male characters, but no one pays attention to them, right?
The animation is done by my favorite studio, JC Staff. I have no complaints with it.
The Actual DVD:
I tried listening to the English dub of Shana for episode 2 just for the heck of it. The voices weren't bad. I thought Shana's voice was crazy low though. I guess I'm just used to Rie Kugimiya's high voice.
One thing I noticed in Shana was that the transfer seemed a bit on the fuzzy side. I expected the DVD to be a bit sharper than it turned out. Instead it looked like someone put a blur filter on the whole thing.
As far as extras go, Shana was pretty lame. There was a creditless OP (but no ED even!), some trailers (I don't count those as extras), and art (which I don't count either). Like Disgaea, the cover is reversible and features super cool art on the flip side.
Conclusion:
If you like flat-chested sword-wielding tsunderes, I think Shakugan no Shana is a perfect match for you. This first volume is somewhat slow, but things are guaranteed to liven up in the next since all the explanations have been taken care of. Give Shakugan no Shana some time and it won't disappoint.
Many thanks to Geneon for sending me a review copy of Shakugan no Shana Volume 1!