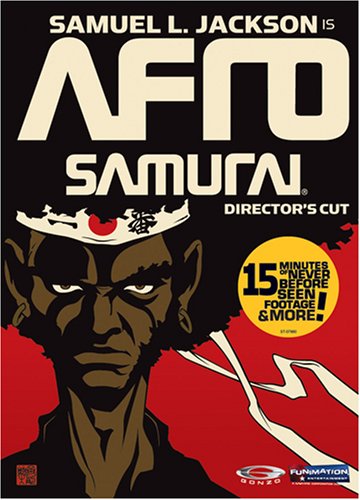 Originally, I took a look at the trailer for Afro Samurai and wrote it off as some lame ripoff masquerading as anime. Plus I didn't have Spike TV, so I couldn't just watch it on cable. I finally got the DVD, and had a chance to give the DVD a fair review. So how'd it turn out?
Story:
As a child, Afro saw his father killed by "Justice," a gun-toting warrior. Apparently his dad was #1, and Justice was #2. After killing Afro's dad, Justice became #1. As #1 (which happens when you wear the #1 headband), Justice became something of a god. Afro Samurai follows Afro's journey to seek revenge against Justice to become the new #1!
Analysis:
The plot sounds pretty dumb, but it's just about par for the course as far as these types of shows go. If I criticized this plot, I'd have to criticize a bunch of other martial arts films that had stupid plots too. I mean, if you think about it, Kill Bill is just about revenge too, but that movie rocks!
And so does Afro Samurai, in a way. Sure, the thing is totally in English, but the anime (and I do consider it an anime) retains a lot of street cred. Like Highlander, this anime was conceived by a Japanese director. Plus you can't really anything worse by adding Samuel L. Jackson to it. It's impossible!
I found the story progression refreshingly interesting. Afro's past is really messed up, and it comes back to haunt him, literally at times. I don't want to say the anime is Oscar-worthy, but it does make you think at some points. At times, the anime lets you sit back and enjoy the samurai action, too. I think it's a good mix of action and drama, though the latter does seem a bit forced quite often.
Character Designs and Art:
As a pseudo OVA (it's 5 episodes), Afro Samurai has a pretty good budget. I can't say I'm in love with the character designs, but the animation is really good. Funny thing: I noticed in the first episode that there's a few minutes of pure action, then later in a bar they use every single trick to not animate. Like having the back of character's heads speak, repeating animation, etc. It was really funny since it was so noticable.
While the character of Afro doesn't really talk much, his spunky ninja cohort does! Good thing Samuel L. Jackson decided to voice both, since a bunch of quick grunts from SLJ would've pissed me off. Samuel L. Jackson ends up bringing a whole lot to the anime. I'd say he's the sole reason for the show's "success."
The animation was done by Gonzo. Personally, I don't have a problem with Gonzo, though the kid version of Okiku totally looked like Misaki from NHK!
The Actual DVD:
I'm reviewing the "Director's Cut" of the DVD which includes 15 minutes of previously censored footage (probably the naughty bits and some violence?). It also has a second disk with a bunch of documentaries about the making of the Afro Samurai anime.
The documentaries are actually pretty interesting giving background on the characters and the people behind the production of the anime. It's really a nice package if you can afford the extra $5 or so that distinguish it from the normal version.
Conclusion:
I originally didn't think that the Afro Samurai anime would be worth my time at all. However, having an open mind, I watched it and actually ended up enjoying it. At times it still feels like a wannabe anime, but for the most part, it's enjoyable.
Many thanks to Funimation for sending me a review copy of Afro Samurai (Director's Cut)!