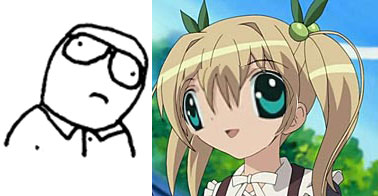 So I haven't really been watching Tengen Toppa Gurren-Lagann, but apparently there was some kind of scandal that occurred due to the "unique" directing of the fourth episode, including the resignation of show's producer.
Then, Kyoto Animation decided to switch directors on the Lucky Star anime, apparently due to lackluster humor? To be fair, the second and third episodes were chuckle inducing, but only for a few parts. The show is still no Azumanga, or even a Gaijin 4-koma, for that matter.
Then, Hinano dropped the bomb on a potentially earth shattering story! The characters in episode 4 of Kami-chama Karin look weird! Like, Steve Sutton weird!
Perhaps the Japanese superstition about the number 4 has a basis in reality. Or in this case, episode 4… Quick, someone get Animation Runner Kuromi on the job!