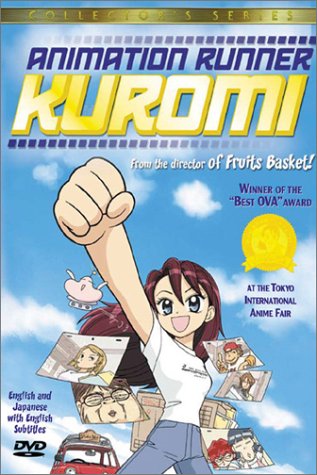 It's no secret that my favorite anime are usually the insane gag type. Like Jungle wa Itsumo Hare Nochi Guu or Excel Saga or Bobobo-bo Bo-bobo. I just finished watching Animation Runner Kuromi, which sorta falls into that category. It was directed by Akitaro Daichi, who did Gag Manga Biyori and Jubei-chan. He also did Sexy Commando!!! So it should freaking awesome, right?
Story:
Oguro Mikiko has just started her job at Studio Petit as an animation runner. It's her job to motivate the insanely relaxed studio to get episode 2 of Time Journeys out on time. Each key animator has their own weird quirk that needs to be exploited in order for them to become productive. Will they ever get the anime out in time? Find out within 40 minutes!
Analysis:
That's right, Animation Runner Kuromi is a 40 minute OVA. That doesn't leave much time for character development. In fact, there's very little character development besides the small story of how Kuromi got into anime herself. The plot is resolved in a very Deus Ex Machina sort of way involving Shihonmatsu giving Kuromi a list of the artists' weaknesses.
The anime is more about random gags. They work for the most part. Kuromi is definitely high energy, and there's hardly a dull moment. I just thought it was really short and it seemed like they tried to fit too much into a really short OVA.
I should mention that there's a parody of Lupin III, Luis Monde III! I'm totally stoked that I got that! I wish they had taken it a bit further though, like by introducing all of the other characters too (Fujiko, Daisuke, Zenigata, etc). I'm sure Time Journeys is a parody of some sort too, I just don't know what of.
The Actual DVD:
The DVD has a ton of extras. There's an interview with Akitaroh Daichi and Lisa Ortiz, a couple of art galleries, a short description of the actual animation process and some other stuff. You can also watch the anime with just the storyboards as a separate angle.
I checked out the English dub, but I watched the whole thing in Japanese. I thought the voice actor for Kuromi was actually good, though her voice got really annoying after a while. Also, they said "Luis Monde three" instead of "Luis Monde the third." That makes me cry. Nothing beats the Japanese dub, right?
Conclusion:
I liked Animation Runner Kuromi. The running time just seemed super short for a DVD's worth of stuff. The short running time made the story seem really rushed. There were a lot of extras, but they don't really make up for the lack of another episode. It's by one of my favorite directors though, so I can't knock it too much. I guess I just want more!!!
Many thanks to Central Park Media for sending me a review copy of Animation Runner Kuromi!