Welcome to the NHK Volume 2 contains more sex and drugs, but considerably little (if any) rock and roll. Oh, and things get even more messed up for Satou, if that's even possible.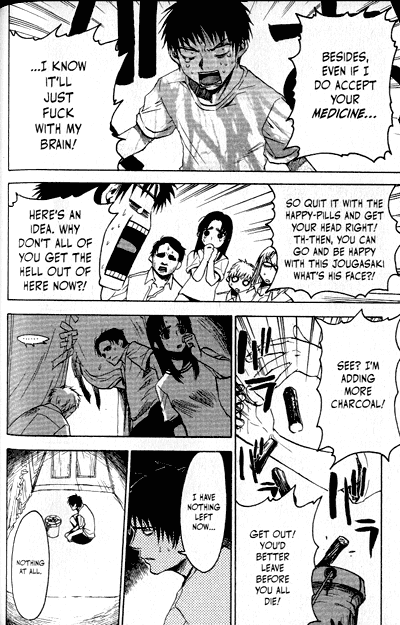 Story:
This volume of NHK covers Satou and Misaki's fake date with Satou's mom, who instantly sees through her son. After that, we find out why Yamazaki is such a misogynist. Then Satou gets whisked away to a lone island with his senpai, unaware that it's really a suicide club meeting! Will this be the end for Satou!? Probably not; there's still a few volumes after this one.
Analysis:
This volume was just a lot of fun to read. I think it's a combination of the really great art, and the sadistic pleasure from seeing people whose lives are more messed up than your own. In Satou's case, his live is super messed up! But it's not only Satou.
Yamazaki, Kashiwa, and even Misaki all have serious issues as well. Yamazaki has issues with women, Kashiwa has some serious drug issues, and Misaki hinted that she's a terrible person, though we have yet to guess why. Maybe it has to do with her crazy wiretapping of Satou's house.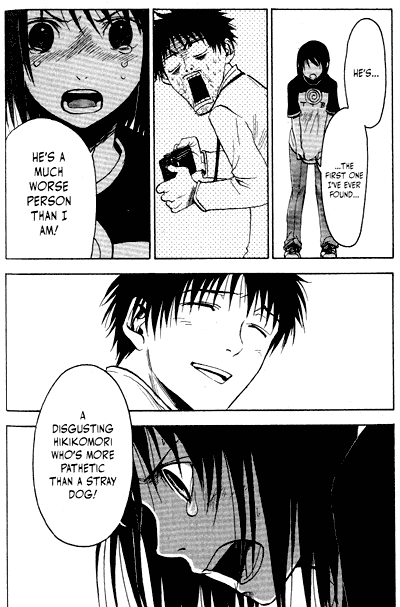 Somehow, all of these serious real life issues are incredibly enjoyable when put into a manga context. Would I laugh at a real life lolicon or drug abuser? Probably not. But NHK makes it very amusing. The highlight of the volume had to be when Satou, originally against the suicide, starts getting mad at the group for reconsidering. Satou has some serious issues…
Conclusion:
Welcome to the NHK Volume 2 is yet another solid volume. I'm really enjoying this series, and I'm realizing why people said the anime version paled in comparison to the manga. I'm really looking forward to the next volume, where we might actually learn a bit more about Misaki and her issues.
Many Thanks to Tokyopop for sending me a review copy of Welcome to the NHK Volume 2!