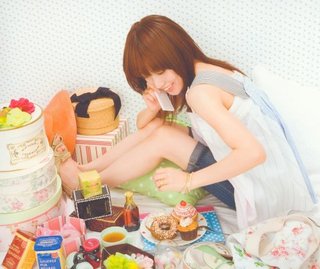 My favorite J-pop-ish group (featuring Nino) is back with a single called "Koi Wo Shiteru." For a while I thought they had died since their last album was out in August 2006!
So Koi Wo Shiteru is just a short single with three songs and two karaoke versions. Here's my take on the new songs:
1. Koi Wo Shiteru:
So this song is definitely in Round Table's "disco" style of playing. I don't typically like their disco-ish songs. Another example of a similar song is "Dancin' All Night." A few extra listens to this song and it's sorta grown on me though, I guess. The hook is pretty good. I guess my problem with this track is that it's a little too "pure" in its disco sound. A lot of Round Table songs are more fusion-y. Not really so with this one. It's also kind of super repetitive.
2. Symphony:
Symphony is in the Round Table genre of "R&B." You know, with the clapping percussion and stuff. This one kinda reminds me of Rainbow. Unfortunately I'm not a huge fan of the Round Table R&B genre, either.
3. mono:
This one's pretty neat. It's got acoustic guitar and shakers! Nino also does her Nino voice stuff in this song pretty well. You know, the stuff that Nino does. With her voice. This is apparently a demo version, so I'm looking forward to the produced version!
So all in all, kind of a disappointing release. I prefer the Round Table driving rock genre (like, Beautiful or Sunny Side Hill), personally. Hopefully the full album arrives with the type of song I like from Round Table (feat. Nino). Isn't it about time they just incorporate her into the band?
I also heard this song from Round Table (without Nino) on Nico Nico Douga called "Every Every Every" that was pretty sweet (and in the driving rock style I mentioned earlier, actually). Round Table seems to do well without Nino, so I could probably pick up a few of their old albums if I get tired of waiting for them to release new ones…