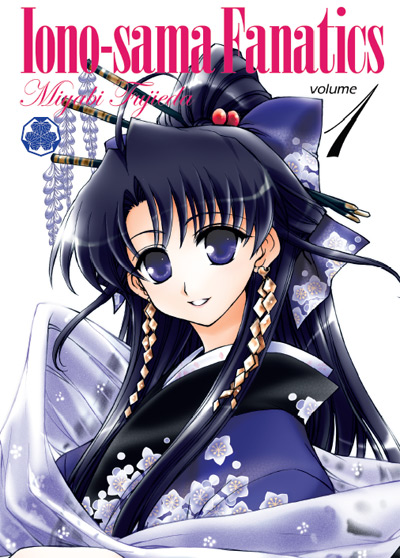 Facts about Iono-Sama Fanatics:
Iono-Sama Fanatics is a Yuri manga.
Iono-Sama hits on girls ALL THE TIME.
The main purpose of this manga is to show girls' love.
Needless to say, I love this manga with my entire body, including my pee pee.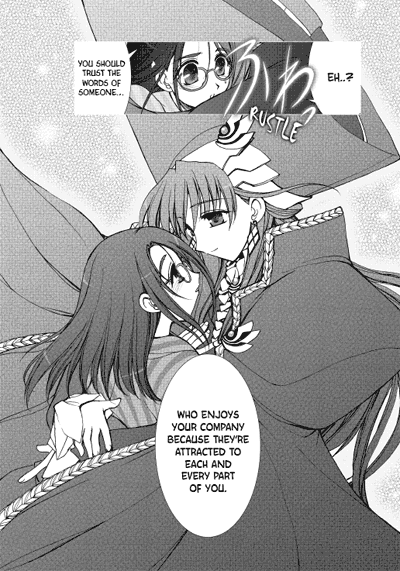 Story:
Iono-sama is the newly crowned queen of some small country with a pretty big war chest. And by war chest, I mean the girls there have big chests. Okay, so enough with the middle school humor. Iono really likes chicks, so she's continually trying to get girls to become her "sobame." Basically, she's building a harem.
Since she misses her late mother who had black hair, Iono travels to Japan, the land of black-haired beauties to nab some Sobame. On this trip, she bags the hot meganekko, Eto. Eto is the clumsy-type meganekko (my favorite kind!) and she apparently had a relationship with one of her (female) senpai. HOT! But her senpai ended up dating some other girl. Hey, are lesbians really this common in Japan?
Anyway, Eto is reluctant at first but soon warms up to Iono's charms. She joins the traveling harem of Kyas, the blonde smart one, Aida, the brunette trickster, Aru, the loli gunslinger girl, and Fletch, Aru's mom and fellow gunslinger. The crew is pretty varied, each with a unique specialty.
Analysis:
Iono-sama Fanatics is basically a yuri comedy manga. Like the relationships aren't really that serious, and focus more on the comedic aspects as Iono builds her female harem. I find it kind of weird that Iono and Eto get so close, then Eto has to settle for Iono hitting on other girls almost immediately. Well, Iono still pretty much rapes her in one scene, but hey, you take what you can get as far as that goes.
Later on, another sobame is introduced, and she actually seems to have feelings for Fletch. Is that allowed? I'm all for multiple yuri pairings, though; the more the merrier! As far as actual "money" scenes, this manga seems a bit tame. Like the most you'll see is Iono pounce on a girl, and then flailing arms. Remember, this is a comedy first and foremost.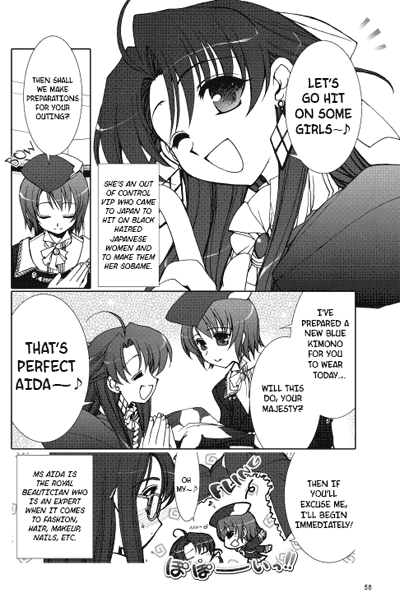 Character Designs and Art:
The character designs are really cool. Like there are multiple meganekko, of the types clumsy and smart. This already means that the manga gets an A+ in my book. Or, in ebay feedback, AAA++++WOULD DO BUSINESS AGAIN!
The art quality is awesome, too. The artist really knows how to draw cute girls in all sorts of poses. Once again, I approve.
The Actual Book:
The copy of Iono-sama Fanatics I reviewed was a digital review copy, so I haven't actually seen what the book looks like. Too bad. I will say, though, that the extras in the back of the manga are really nice. Like a bunch of funny 4koma, and pages in between chapters have descriptions of the character. The presentation is great.
Conclusion:
So as a fan of Yuri, I think my options are pretty limited as it is. There's Kashimashi, Iono-sama Fanatics… uh, what else? I guess Stray Little Devil and Shinobuden have some yuri "elements"… I have Hayate Cross Blade in Japanese but it's got kanji!!!
Don't get me wrong, I'm not only liking Iono-sama Fanatics just because it's Yuri. It's also funny, well drawn, and interesting. Hopefully the next volume will be out soon (actually, this one's not even out yet…). If you like yuri, I highly recommend getting this when it does come out!
Thanks to Infinity Studios for sending me a digital review copy of Iono-sama Fanatics Volume 1.