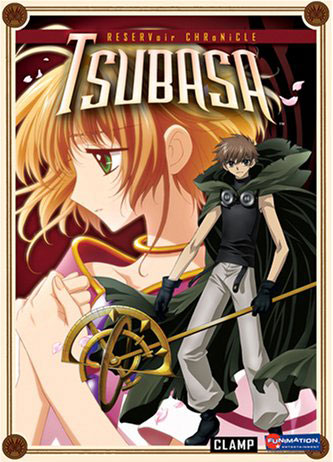 Tsubasa Reservoir Chronicle is that one anime that takes a bunch of CLAMP characters and throws them into a totally unrelated plot. So it should be tons of fun for people who are into all the CLAMP characters. I am not one of those people…
DVD Blurb:
The fates shine upon young archaeologist Syaoran and his life-long love, the princess Sakura. As the moon hovers silently above the kingdom a beautiful and otherworldly sound fills the air, drawing the princess to the ancient ruins. Her latent powers stir, awakening an ability to cross dimensions. But the process is interrupted as unseen forces conspire to claim this magic as their own. Sakura's soul is sent adrift across the universe, each memory a feather dancing through the stars. Syaoran will make heroic sacrifices to track down the remnants of her soul… With fellow travelers Kurogane and Fai, a warrior and a wizard, an epic quest begins.
Analysis:
As stated previously, I don't have much experience watching CLAMP anime. I saw all of Chobits, and one episode of xxxHolic. No, I haven't seen Card Captor Sakura. Yes, I know that's like a crime in the anime world. So anyway, I'm sorta taking this anime at face value.
I'm guessing a lot of the fun of watching this anime is seeing your favorite characters in different roles. And seeing how their "characters" still show up even though they're not really them? But yeah, all those in-jokes are useless against me. I saw Chii for like, 2 seconds, and she didn't even say "chii!" I demand more Chii!!!
So how does the anime fare, then? I thought it was pretty slow and boring. I really don't like these kinds of "collection" plots where the point is to gather a bunch of feathers, or dragon balls, or whatever. It seems like a cheap plot device. Also, things are going really slowly. So far they've gotten one feather, and they're about to get another one.
Another thing that bugs me is that the plot seems somewhat predictable. Like they're all searching for this feather inside of one of the summon monster things. Everyone in the group thinks it might be in the super strong enemy, but it's obviously in the weak kid! Come on! Is everyone that dumb!?
Also, I found it funny that everyone said they were going out to find Sakura's feather, but then they all just sorta bummed around eating takoyaki, etc. Did anyone else notice that?
There were a few actoin scenes in the later episodes. It was enough to wake me up momentarily, but still, the pace of the anime is generally super slow.
One thing is for certain, however. If you love magical rune circles, you'll probably enjoy Tsubasa Chronicle more than I did. They've got plenty.
Character Designs and Art:
I don't even know know which characters are from existing CLAMP anime, and which are original, but most of the character designs are pretty cool. CLAMP likes making really skinny people. That flying bunny thing is sort of cute and annoying at the same time. I really like Sakura's (Japanese) VA, but she doesn't seem to talk very much.
The Actual DVD:
Funimation did a really good job with this DVD as far as extras went. If you care about the English VAs, they have the cast auditions. There's also a bunch of extras that try to explain the characters and places in the anime in greater detail. Overall, I'm pretty happy with the extras.
The picture itself looked really fuzzy. I'm not sure if its because of the style of the anime, the transfer, or because I watched some of this on my computer. I was kind of disappointed with the actual picture quality.
Conclusion:
Being a CLAMP outsider, I think I may have missed out on some of the anime just because I wasn't familiar with the characters already. Even so, it should readily be accessible to anyone wanting to watch it. Or it could just be the case that this anime is plain boring. Do I really care about these characters enough to watch them gather feathers for like, 52 episodes? I feel like I have more interesting anime to watch.
Many thanks to Funimation for sending me a review copy of Tsubasa Reservoir Chronicle Volume 1!