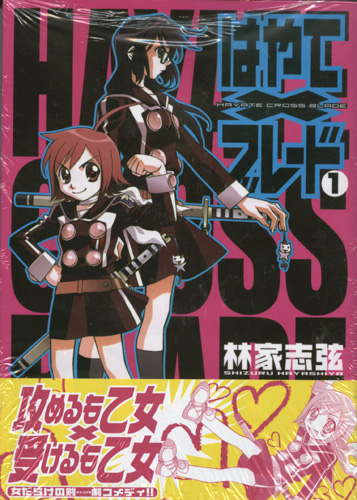 So a few months ago, I got an order from yesasia.com which consisted of yummy manga goodness. Among all of these manga was one called "Hayate Cross Blade." Unluckily for me, the manga didn't include any furigana, so I couldn't read it (I'm kinda bad at kanji)! Just recently, a scanslation group released the first chapter of Hayate Cross Blade, so I was able to use that as a sort of script to read my manga.
It worked out pretty well. Whenever I read furiganafied manga, I tend to ignore the kanji. With this one, I had to look at the kanji, so it helped me memorize (or at least solidify) a few more that I had forgotten.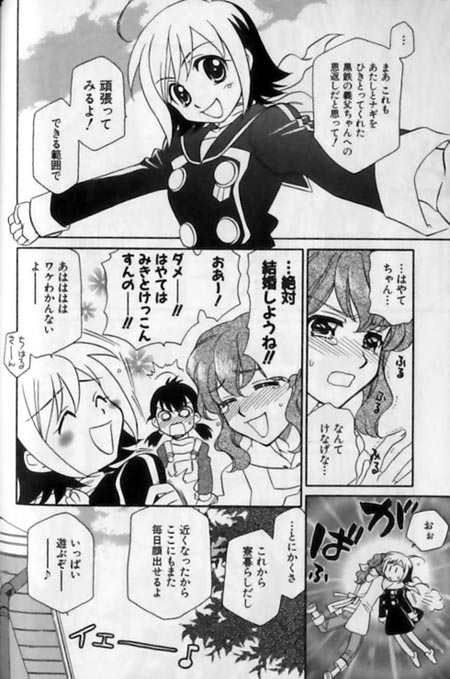 Hayate Cross Blade is the story of a girl named Kurogane Hayate… I would've guessed as much. She's filling in for her twin sister Nagi at Tenchi Academy, who's currently injured. The Academy seems to be some kind of swords woman school.
There's some weird system set in place where girls pair up to fight other pairs of girls. They need to collect the others' "stars" (sorta like a badge) in order to get money and fame. I'm not sure exactly how that works, but they'll probably explain it in later chapters.
Along with Hayate, we're introduced to a cool meganekko swordsman named Mudou Ayana. It appears that she'll eventually become Hayate's "partner." Oh, did I mention that this manga falls under the "Yuri" genre?
At this point, there hasn't been any actual yuri action, but there were a few hints. The excerpt above has a mother and daughter fighting over who'll get to marry Hayate. Near the end of the chapter, Hayate catches herself falling for Ayana (she's so kakkoi!).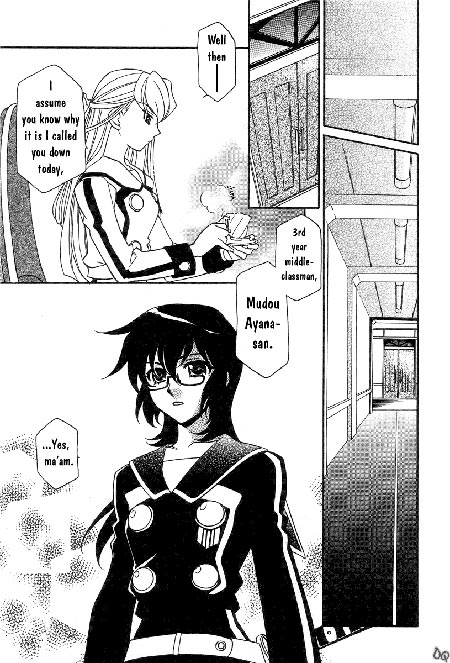 The character designs are really cool (I mean, c'mon, all girls school? Everyone has a sword!?). Hayate is the cute genki girl who's about half of everyone else's height. She also goes SD a lot, which is way cute. The meganekko, Ayana, is just really cool. I also really like the uniforms they wear. Giant buttons FTW!
After having bought Hayate Cross Blade without a method to read it, I'm really glad someone decided to scanslate it. The story seems really cool, and I like the art, too. I'm really hoping they'll turn this into an anime. If not, I guess I can either wait it out for the next scanslation, or buy a kanji dictionary + flashcards…