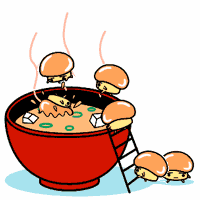 The latest news from Anime News Network is that they're opening up a new section. I guess they're trying to break into the anime blog business now.
From the looks of it, mainly anime industry news and insider opinion will be the main subjects. So don't expect any "OMG HARUHI 4 EVER!!!" posts.
Reading a few of the entries, they feel kinda dry and impersonal. I mean, c'mon, their avatars are from Saikano! Totally kawaikunai! I demand cute chibi anime avatars! I have a feeling that they're still in "news writing mode," which means no emo(tion).
Their biggest weakness? No stupid pictures from danbooru (see above picture)!
Anywho, I guess I shouldn't be looking for an entertaining reading experience from Anime News Network. Hopefully they'll give us an unbiased look into the anime industry.