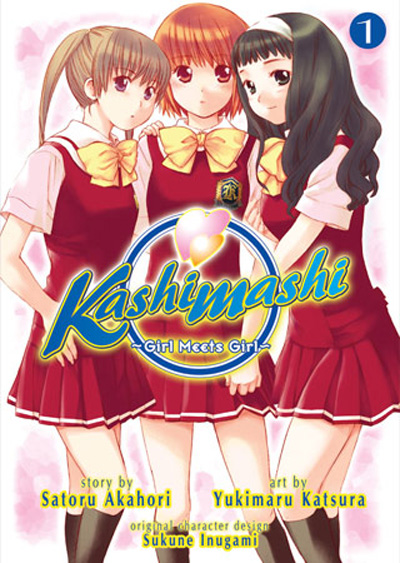 Like any normal guy, I like my fair share of girl meets girl action. Kashimashi has "girl meets girl" in the freakin' title! Before even opening the book, I knew I'd like this manga; the question was how much I would like it…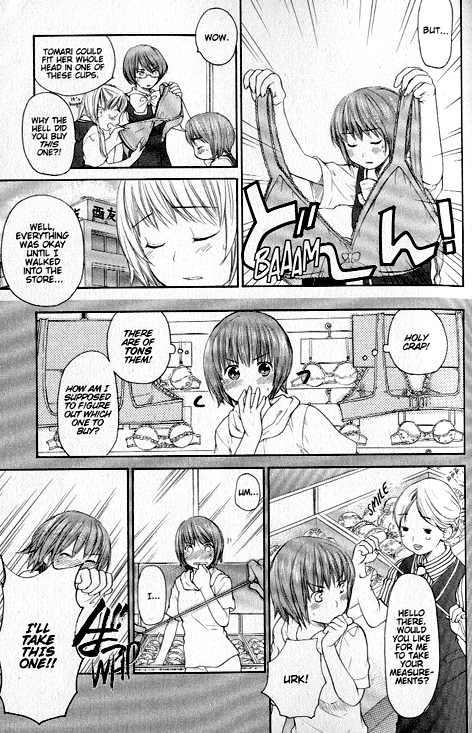 Story:
Hazumu is just your typical high school kid. Slightly girly, but still average. He confesses to and is rejected by Yasuna, a hot emo flute girl that he met while harvesting plants on Mt. Kashima. Their friendship bloomed, but he ruined it by asking her out and getting rejected. To make himself feel better, he revisits Mt. Kashima where he's promptly killed by an alien spaceship and turned into a girl. Like I said, he's just your typical guy turned girl…
Hazumu now must figure out how to live the rest of his life as a girl. This involves stuff like purchasing bras and not showing guys her boobs. For some reason, Yasuna starts liking Hazumu more once he's a girl. Tomari, who happens to be Hazumu's childhood friend, must figure out if she still has feelings for Hazumu even though he's a she now…
Most of the first volume involves Yasuna trying to get closer to Hazumu, and Tomari trying to keep her away. There's lots of good comic relief found in Asuta. Asuta used to be bosom buddies with Hazumu… now his buddy has a bosom!!! Asuta is in the unenviable position of really wanting to score with his best guy turned girl friend. Awkward…
Analysis:
Once you get past the somewhat gimmicky story, you find that Kashimashi offers a lot of depth in the characters. Each one has their own motivations and it's really interesting seeing how they interact. Tomari is such a tomboy anyway that no one would really be surprised if she was to pursue a relationship with Hazumu. Yasuna has some weird deal going with her rejection of Hazumu as a guy, and her interest in Hazumu as a girl. I just feel really bad for Asuta…
I should also mention that Ayuki is hawt and that she needs more face time in the manga. I'm was a member of the Ayuki Alliance, so you can be sure that she's my favorite character. I've got it bad for the meganekko.
I had previously watched the Kashimashi anime, so I already knew the general plot of the manga. I did notice quite a few things that were different between the two, though. Like how everyone just stayed at Hazumu's house instead of going to the mountain to look for him/her. The manga moved a lot faster than the anime, too.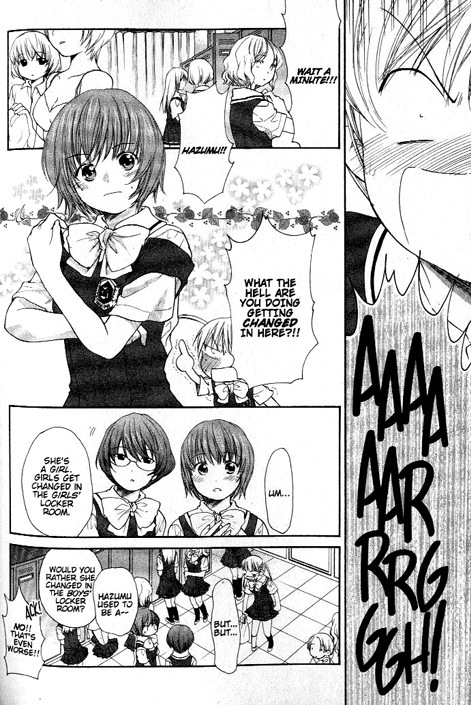 Art and Designs:
One of the things that really stuck out to me while reading Kashimashi was the art. Every page that's drawn has really great detail. In a lot of manga, the artwork tends to go downhill. There were a few weirdly drawn characters here and there, but for the most part, the art was really good.
The character designs are all really awesome, too. Hazumu is way cute, along with Yasuna, Jan-puu, and even the teacher. Of course, no one compares to Ayuki, but we've gone over this already.
The Actual Book:
The cover artwork for Kashimashi looks really good. The manga also contains a color insert with the four girls on one side, and the table of contents on the other. The paper that the manga is printed on is probably the same quality as Tokyopop's. It's slightly off white and feels cheaper than the paper that other publishers like Broccoli Books and Infinity Studios use. Not that the quality of paper really hinders the manga reading experience for me.
Conclusion:
Love triangles are already a pretty cool plot device. Love triangles between three (or more?) girls are just plain awesome. I really liked the Kashimashi anime, and I think I like the manga even more. Be sure to pick this one up once it hits store shelves on December 25th, or preorder it at Amazon.com!
Many thanks to Seven Seas Entertainment for providing the review copy of Kashimashi. They've got some pretty interesting things planned for the future, like a yuri line of manga and upcoming light novel releases, so be sure to check them out.