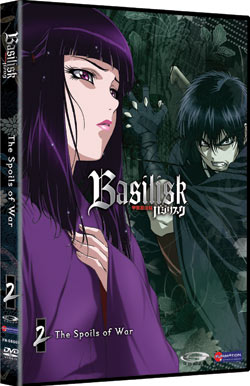 Volume 2 of Basilisk contains more ninjas, more fighting, and more oppai! But does that make the anime better? (yes)
Story:
So in this installment of Basilisk, tensions get even higher as Gennosuke is staying at the enemy's base. Everyone but him and Oboro know about the while peace pact being nullified. A bunch of new ninjas are introduced, including oppai ninja, naked wall hiding ninja, and face stealing ninja. They're pretty cool.
The climax of this DVD is the all out ninja brawl that happens in the Kouga village. For some reason, a horde of no named generic ninjas try to fight the elite 5 Iga ninjas. If it didn't work for those guys in Kill Bill, it won't work for generic ninjas either. Seriously, who trains these guys to circle and attack one a time. I remember an SNL skit about this very subject.
By the end of the DVD, Gennosuke finally finds out about the war between the two clans. Oh no, cliffhanger! It's not like he can kill the whole town by himself, so I'm guessing he'll just go home and regroup.
The Actual DVD:
So while I got the normal version for Volume 1 of Basilisk, I got the special edition for Volume 2. This one comes with a few extras: some ninja trading cards and a fold out with some staff interviews and character concept art. The packaging is nicer too. The extras on the DVD were textless OP and ED, as well as a special from the Japanese version of the DVD.
The Japanese extra was a "behind the scenes" kind of thing with the original Japanese voice actors. It was really sort of weird hearing them say really profound lines in the anime, only to find out that they're really goofy and dumb in real life. Plus they have really bad teeth. They basically show scenes and offer their commentary. Like "oh man, that looks like it hurt! Itai!" I thought it was somewhat interesting, at least, moreso than the English voice actor commentary. I'm glad that they at least included it, even if it's just anime voice actors being dumb.
Conclusion:
This Volume was actually really tense and awesome. I dunno how they're gonna keep the anime interesting now that the whole secret has been revealed to everyone. Maybe they'll just have more full scale ninja battles. One can only hope.
Many thanks to Funimation for supplying me with the review copies of Basilisk.