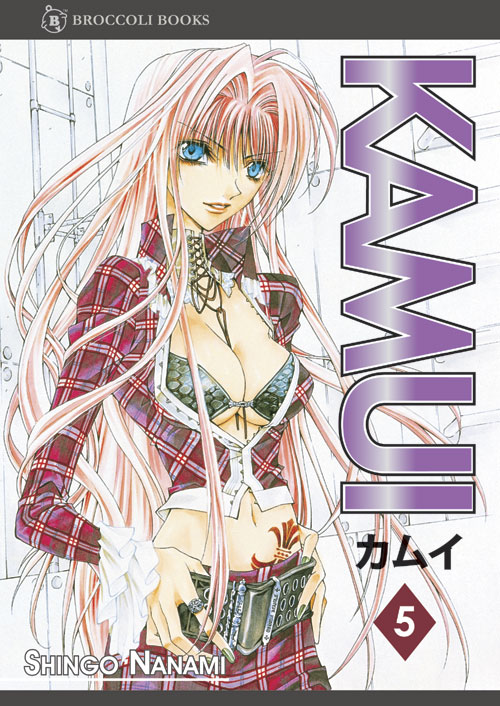 The last volume of Kamui was pretty much one giant flashback. In Kamui volume 5, we finally get to see how Atsuma is doing after being stabbed in the back by Sumire. Plus fights and smooches!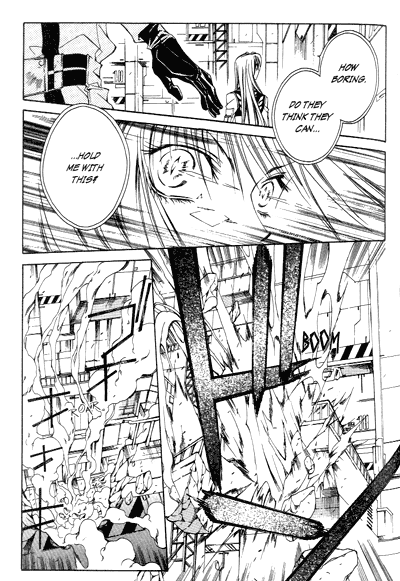 Story:
Okay, so it turns out Atsuma isn't really dead. Well duh, he's like the main character! Since he was stabbed by the Kojomaru sword, Atsuma gets a free healing. He's still pretty damaged, so Sumire takes him to her special secret hiding place. Since Sumire now knows that Atsuma is the brother of Utsuho, she likes him a little more.
While Atsuma is recovering, Kojomaru and Sumire get to talking. They figure out that they have some pretty similar goals (Utsuho and the Okikurumi) so they team up! And by team up, I mean that Kojomaru possesses Sumire. When Atsuma wakes up, he gets a surprise kiss from Kojomire (awkward!). He's then told to just rest until he gets better, while Kojomire goes to retrieve the sword that'll make them stronger.
When Kojomaru and Sumire go to get the sword, they run into Shiki. Awesome fightage ensues before Sumire eventually runs away. She was going to let Shiki do her in, but Kojomaru wouldn't have any of that! Meanwhile, Atsuma gets ambushed by Hyde and Yanagi! Without his Tohsu, he can't really do much. At least, not until the next volume…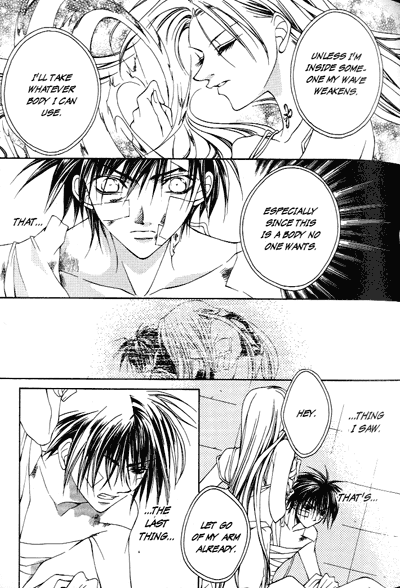 Analysis:
So the plot for Kamui is finally moving along really nicely. There's a lot of character development in this volume. Like Atsuma realizes he's still a weakling and Sumire still seems somewhat logical in her crazy obsession for Utsuho. Kind of. There's still not really any characters that I actually relate to. They're all just crazy and traumatized or selfish and insane.
Also, I suspect that the author of this manga is totally into yaoi and keeps trying to subtly incorporate it into Kamui. Eww! Like how Kojomaru is a boy (I think) and then Kojomire kisses Atsuma. And how Yanagi keeps on "almost" yaoing Atsuma. As a non yaoi reader, this slightly bugs me.
Misc:
Kamui Volume 5 uses the same new printing process as I mentioned in the E'S manga volume 1 review. The book is way sweet! The paper is super nice and the printing is awesome too. Also, the cover image of Sumire is waaayyyyy hot!
As far as extras go, there's a bunch of funny extra pages after each chapter. They just sorta point out the ridiculousness of the characters. Like how Atsuma is always showing up when Suimire is changing her clothes. It's a nice addition to the manga, and I sorta wish the whole thing was like this.
Conclusion:
Kamui Volume 5 has really resparked my interest in the manga. I was seriously doubting it after all of the crazy confusing stuff, but I think it makes sense now. I'm looking forward to reading Volume 6 and seeing what happens next!
Many thanks to Broccoli Books for providing me with a review copy of Kamui Volume 5. You can get more info on the Kamui manga at their official site.