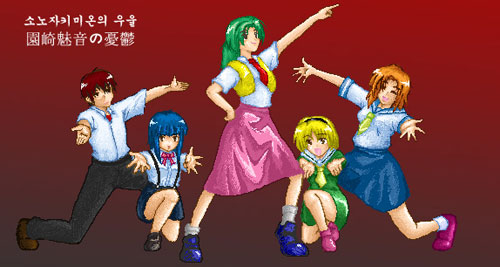 Okay, so maybe it would be best to wait until the season is actually over to announce the best anime of Spring 2006, but I wanna know now! We're more than halfway through this anime season (for the 12 episode shows, at least), so I think that by now the anime will have shown their true colors.
It'll be especially interesting to see what impact The Crash of Suzumiya Haruhi will have on the poll results…
Also interesting will be the difference between the pre-season anime poll I took and the current one. Back then, School Rumble Ni Gakki won it hands down. Next was XXXHOLiC and third was Strawberry Panic! What a difference actually watching the anime makes, huh? Actually, I still stand by School Rumble, but SP?
Suzumiya Haruhi no Yuuutsu wasn't even on the list, and was really the sleeper hit. I'm not really sure about how well it's doing now, though. I still like it, but watching Yuki read is not my idea of an awesome episode.
Higurashi no Naku Koro ni was also absent from the list, and it turned out to be pretty good too. Maybe that's evidence that too much pre-hype will kill an anime, while no hype at all will help its chances of gaining fandom…
At this point, my top picks are still School Rumble, Ouran High School Host Club,
Suzumiya Haruhi no Yuuutsu, and Higurashi no Naku Koro ni. Kamisama Kazoku is starting to get interesting, too.
And as always, if there's an anime that you want to vote for but isn't on the list, drop a comment and I'll put it on the poll (as long as it's not Air Gear or Glass no Kantai…)