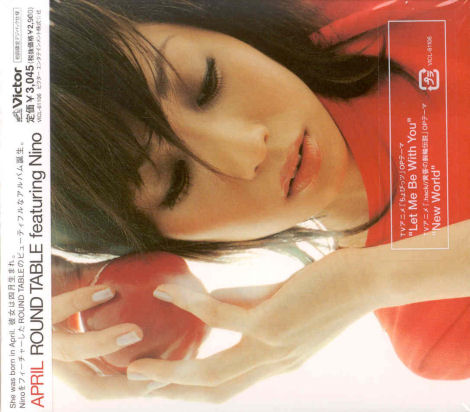 What better time would there be to review an album called "April" than March 31? Perhaps two years ago…
I've wanted April probably since the moment it came out: April 2003! There's a good reason for me holding out! The CD still costs about 3000 yen. This means that after shipping it would probably amount to more than $30 US. For a CD! Anyway, I found the Korean "Special Edition" at yesasia for $10.99. I think the only difference is the price and some added liner notes in Korean.
Here's my review:
I won't lie; I got into Round Table after hearing the OP to Chobits: Let Me Be With You. I thought it was a pretty good standalone song, and it surpassed being merely an anime opening song. Later on, I also heard "New World," which was the OP for the second .hack// anime. This is a sad fact, but I probably ended up watching that whole series on the merit of its OP. It's that good!
So how does the album do? Here's my take on each song:
Let Me Be With You – This is the one that started it all. Sure, it's a little cheesy, but the sweet drums and awesome bass work make this song way catchy. I'd go as far as saying that there's a bit of vocal overkill (u uu u uu yeah), but hey, it makes the song.
Dancin' All Night – This song has a pretty strong disco vibe, but in a good way. It stays pretty upbeat. I dig it. There's a part near the end that sounds like Michael Jackson's "Rock With You," seriously!
Beautiful – I'm guessing that if this CD had a single, Beautiful would be it. This song has also got the laid back (yet driving) drums and bass that make me a fan of Round Table. It also has some sweet flute solo action going on.
New World – This song got me through .hack// Legend of Twilight's Bracelet. It must be damn good! It's got more of a Rock feel (what with the guitars on distortion) than the other songs on this CD. My veridct? This song is totally sweet!
Day By Day – This is the shortest song on the CD, clocking in at only 1:46. It's also kind of boring, so the short length is a good thing. This piano ballad = yawn.
Birthday – Birthday has a weird kind of techno/synthesized feel going. I don't like it as much as the other songs because of this. Plus Japanese people can hardly ever pronounce "birthday" correctly. It's comes out as "bus day" to me.
Book End Bossa – I think this song was background music in Chobits. It's an instrumental track (unless you count Nino going "ba ba ba ba bada ba" as lyrical). I would've had no problem with this track being left off the album. It seems like they just threw it in to raise the track count.
Where Is Love – Whoa, it's an R&B chart! No, Nino doesn't bust out with the rhymes or anything. Her vocals are always good, but this song is just a little too slow for my tastes.
Today – This is another slow song, but I like it. Why? Probably because the chord progression is cool, and the vocals are good. By the way, I'm a music nerd too. And you thought I was only a gadget/anime/manga/computer nerd? Ha!
In April – In April is another example of the type of song that Round Table excels at. They achieve a perfect blending of vocals, guitar, piano, bass, drums, and strings. And yeah, I like the way their chord progressions go.
Love Me Baby – This is a slower, softer song. It's got horns in it, which mellow the song out considerably. Not my favorite song, but it's okay.
Let Me Be With You (New Step Mix) – A remix of the first track. I'm not too keen on remixes myself. It doesn't really enhance the song or anything to me, so I'd say this is more like a fun bonus track. There's a different bass line (which I don't like as much as the original one) and some annoying bell tones added.
Overall, April is a good album. There's some filler and boring songs, but it's hard to find a CD without those in it. My favorite tracks (besides the anime OPs) are "Beautiful" and "Dancin' All Night." If you like Round Table (and Nino), I'd say it's worth picking up. Grab it at yesasia.com at the "bargain" price of $10.99!
On a final note, I'd also like to say that Nino is hot (and she can sing)!