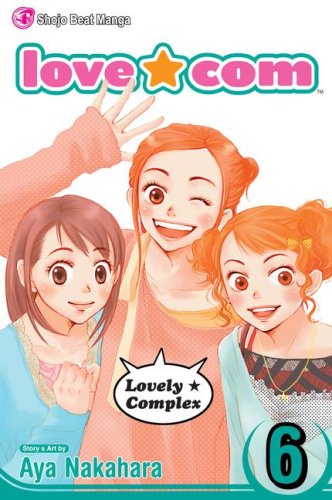 This 6th volume of Love Com was a bit dissapointing, for the fact that very few names were called. Sure, there was plenty of "shrimp" thrown out there, but that's Risa's main attack. Otani threw a "Gigantosaurus" out there, but that was mainly it.
So let's see… What happened in this volume? Oh, that's right. Otani accidentally kissed Risa, then forgot about the whole thing because he was sick. It's funny because they even mention this as "The Blackout Defense!" Then Risa steals a kiss from Otani, but immediately quits him. This comes off as only slightly implausible (because women are naturally illogical).
Enter Mighty-sensei. I was actually kind of surprised that Risa was loyal to Otani for a little while after Mighty showed up. It's only after Otani told Risa about the whole grain of rice thing that Risa went over the edge. The whole Mighty arc for me is a bit boring. Mighty is sort of the voice of reason during the whole episode. He realizes that Otani likes Risa and he knowingly messes with the kids to get them together. I could imagine his plan backfiring pretty badly though, getting him into a tough teacher/student situation (isn't that what doujinshi is for?).
At the end of the volume, Otani's Mighty jealousy finally takes over and he grabs Risa from the ero-teacher. Good job! Now what? Oh, that's what the next volume is for. For the sake of continuing the series, probably more hesitation from both parties.
Thoughts? This volume was also a bit too emo. At least they kissed though. Twice! Does that mean Risa's going to make a baby!? There was also distressingly little Chiharu-chan. So disappointing.