So I kept getting email from Appliya Inc., which is apparently making Evangelion-themed iPhone apps. I mostly ignored these until I realized they were trying to give me free apps so I could review them. Hey, I have an iPhone! So I got some promo codes and the apps. Here's some reviews.
Evangelion Calendar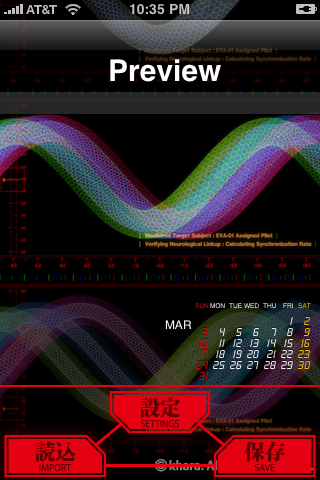 This one's kind of interesting. It's an app that will generate an image that you can use as your iPhone's wallpaper. It basically takes one of 12 images and you can overlay a calendar on it. It's pretty limited because you can't add more images. The images are not really that interesting. Have I mentioned I've never seen Evangelion? Anyway, if you're a fan I guess it's cool. The app makes the calendar based on the month and year, though it only goes up to December 2013 (which is one year longer than it needs to be, apparently). Pretty cool if you don't already have a calendar makin' app and you like the images (though rotating through them might ultimately become kinda stale).
Evangelion Puzzle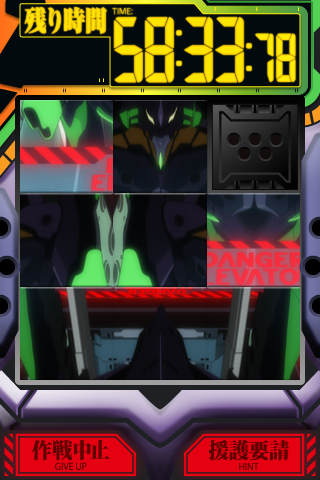 This is just the slidey puzzle game that I'm not very good at, times 9. But you have to unlock the current puzzle to get the next image. I'm pretty sure there's some kind of algorithm for going through these puzzles if you know which square goes where. But I'm too lazy to figure it out because solving the puzzle is ultimately not very fun. You can choose between easy, medium and hard difficulty (probably determines how effed up the computer scrambles your puzzle) and 3×3, 4×4 and 5×5 grids. It's pretty easy to get through them all on easy 3×3 mode!
So that's about it! As an iPhone developer, I can say that the apps work pretty well. They don't crash randomly, which is hard to accomplish in Objective-C! The premise of all these Evangelion-themed apps is kinda funny. They could literally make anything based on the franchise. I kind of expect to see an Evangelion Farts app next. Anyway, thanks to Appliya for sending me the apps. Go to their website for more info on the first 5 apps they've made so far.