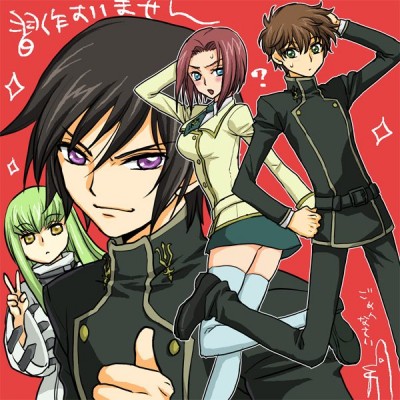 After almost two years after the actual series premiered, I finally checked out the first episode of Code Geass. Yes, it took me that long. Tired of not getting all the jokes about Pizza Hut and wondering who CC is, who the hell the late Shirly is, etc, I finally just decided to watch the damn thing. Though I still haven't gotten to the second episode…
Because of the sheer popularity of the anime, I figured I better up my knowledge of Geass. Currently, Code Geass (and its second season) is the most written-about series on Anime Nano! More popular than Haruhi, more popular than Lucky Star, and more popular than Naruto! Sure, the accuracy of predicting the popularity of a series by the times it shows up in Anime Nano might be imperfect, but I think it's a fairly good metric to use, especially when you have a really big sample size.
I actually wrote about considering watching this more than a year ago but I guess I couldn't be persuaded. Really, the only reason I finally ended up seeing it was that I loaded it on my iPhone in preparation for a long plane flight.
I guess I should say something about what I thought of the first episode. I realize this post is going to resemble some kind of weird time warp. Like if a recently unfrozen caveman started writing about what he thought of automobiles or something.
Code Geass: the plot is insanely ridiculous and funny at the same time. I like how Britannia (the United States?) attacked Japan and called it zone 11. This must be an alternate universe because I don't think we'd turn into a monarchy + empire so quickly (by the year 2010 or so?). Lelouch seems like a cool strategist type dude who gets the power to command people to kill themselves (and do other stuff too, probably). Kind of like that Gennosuke guy from Basilisk. I suppose the series will center around Geass leading a rebellion of some sort against Britannia (plot-describing subtitles FTW).
I'm not sure I like it yet, but Code Geass seems to be so integral to a well rounded knowledge of anime and weeaboo culture that I'm basically being forced to watch it. Hopefully I'll start getting more of DiGiKerot's unfunny comics.