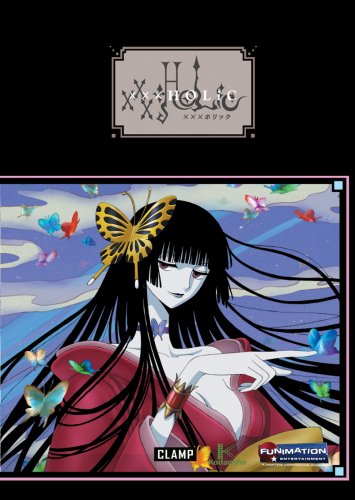 xxxHolic always reminds me of that one editorial on The Onion: I'm Like a Chocoholic, But for Booze. Except in this case it's for xxx? Good luck trying to buy this one in a store without getting weird looks…
DVD Blurb:
Watanuki has been haunted by spirits his entire life; a curse flowing through his bloodline that prevents his peace. When incessant demons dog him to the ornate door of the Dimensional Witch Yuko, he meets a mystical woman of insight and luxury, quick to help those in a bind – for a fee! One might very well end up paying with their soul! To be free of his visions, Watanuki will work in her shop of dreams and wishes. There is always a price to pay…
Review:
xxxHolic is mostly notable because it's from CLAMP, who are also responsible for stuff like Chobits, Cardcaptor Sakura and Tsubasa Chronicles.
I think xxxHolic could easily slip into obscurity by playing out generically, but I think it does a good job of not following genre conventions too closely. For example, Watanuki is sort of an indentured servant of Yuko. She pretty much tells him what to do and he does it. But for some reason, as much as Yuko is sexualized in the various outfits she wears (and changes out of), it seems like Yuko really isn't sexualized at all. She's like the Yoda to Watanuki's Luke. And we all know Luke and Yoda never did it (unless you read fanfiction).
Watanuki has a prospective mate anyway, Himawari (who actually isn't a female ninja). There's apparently a love triangle going on between Watanuki, Himawari and Doumeki, the local jock guy. You'd think it'd be a battle of Watanuki and Doumeki for Himawari, but Yuko seems to be pairing the two guys, which yaoi fangirls probably appreciate a lot. Apparently their "bond" is stronger than Watanuki and Himawari's.
So the series is following a sort of "mystery of the week" format for now. We're just getting to know the characters and learning about just how much Yuko knows about the world. She seems to be pretty good at knowing everything before anyone else does. Her ulterior motive is probably to train Watanuki to become some kind of successor, but he's pretty oblivious to it.
As much as I want to like this anime, it just comes of as a bit boring to me. At least, these first few episodes do. I don't really care about the characters. Watanuki is kind of annoying, as is Yuko and her loli twins as well. Himawari is kind of cute, but she gets like, zero screen time. Add in the super strange artwork (all the characters are crazy tall and skinny) and it's kind of a pain to watch. Not only that, but the storylines right now are generally depressing.
Perhaps this anime is supposed to be catering to viewers who are heavily into the occult. I'm not really interested in the stuff going on in the series personally. And seriously, despite the name, there has been nothing xxxHolic about this anime! I claim false advertising!
Many thanks to Funimation for sending me a review copy of xxxHolic Volume 1!