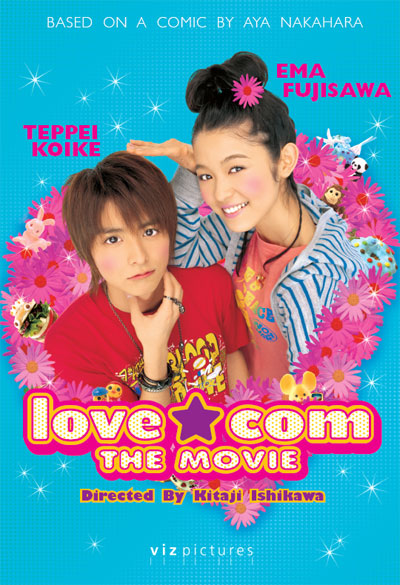 TallRisa is Tall!!!
DVD Blurb:
Based on the bestselling comic by Aya Nakahara Love☆Com The Movie is a high-school romantic comedy centering on two students. Risa Koizumi is the tallest girl in class, and the last thing she wants is the humiliation of standing next to Atsushi Ôtani, the shortest guy. Fate and the whole school have other ideas, and the two find themselves cast as the unwilling stars of a bizarre romantic comedy duo. But as their friendship develops, so do Risa's feelings toward Ôtani.
Review:
Love*Com is the timeless story about two star-crossed lovers. It's like Romeo and Juliet, except Juliet is really tall and without the genocide at the end!
This is my first stab at a shoujo story gone live action, so I may be a bit biased when I say the acting seemed really horrible. Of course, a live action is supposed to mimic the wackiness of a manga, right? The manganess was also portrayed in other ways like how everything looked like it went through a crazy saturation filter in Photoshop and the crazy mise-en-scene of the classrooms. I guess in retrospect, the "bad" acting sort of contributed to the light fluffy nature of the story.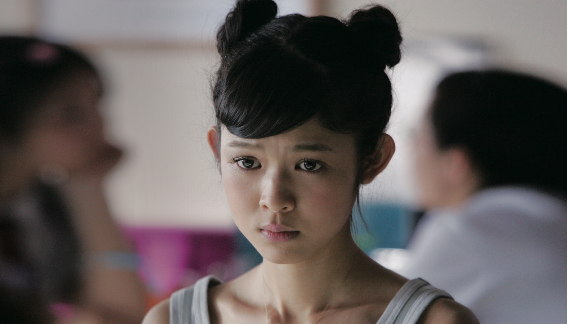 While I was watching, I thought to myself: "Risa is kind of cute, but I bet she's in high school! Bad thoughts!!! But Otani looks like he's 30 or something!" It turns out the actress who plays Risa, Fujisawa Ema, was born in 1982, making her about 6 months OLDER than me, and the Otani guy, Koike Teppei, was born in 1985. Oops. So yeah, I can safely think that Risa is kind of cute.
Also, I've mentioned this before, but the heights aren't even that wacked out. Like Risa is supposed to be 170cm, which works out to about 5'7. That's like, my height. I guess we're going via average Japanese heights, though. Not ABC heights.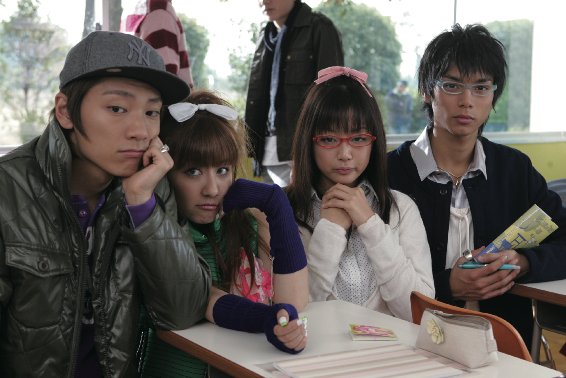 I know how the Love*Com story goes in the non-movie media, so it's interesting to see what the movie does to compress the storyline. For example, in the beginning, Chiharu and Suzuki are already an item. Also, Chiharu is waayy too cute in the movie, detracting from Risa. Whoever had the idea to make Chiharu a meganekko, I SALUTE YOU! Getting back on track, a lot of things are left out and entire characters are gone (like the epic trap!).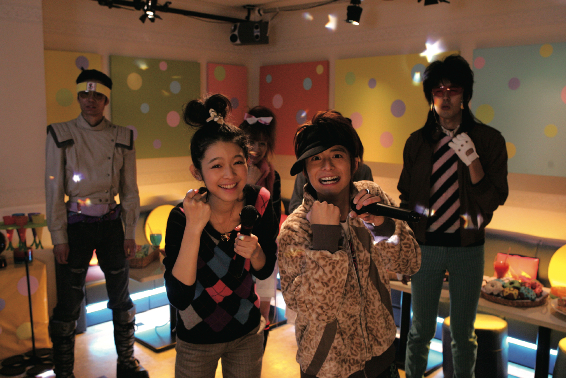 There were, however, some completely awesome things thrown in. The karaoke with Umibozu was totally awesome. The scene with the random rickshaw ride was awesome. Maity-sensei saying "Yoroshi QUEEENNN" was also awesome. The director definitely had a fun time with the movie, and it shows. Risa does her fair share of crying as well, which kinda makes you feel bad for her. Because of the speed of the movie, Risa comes off as less of an indecisive idiot and more like a real human. I guess I should also mention that Kansai-ben is awesome, too.
Conclusion:
One of my main gripes about the Lovely Complex manga is that it tries too hard to extend the storyline by adding random characters and delaying the payoff. The Love*Com movie pretty successfully escapes this by lasting about 100 minutes. What you get is a happy ending in a fraction of the time you'd spend reading! Overall it's a fun movie.
Many thanks to Viz for sending me a review copy of Love*Com The Movie! It's out on Feb. 19th, just in time for a really, really late Valentine's day!