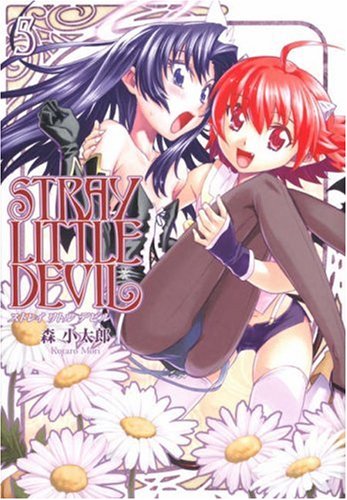 Stray Little Devil (and its fanservice) sadly ends in this final 5th volume. Vine, we hardly knew ye!
When we last read SLD, the world was pretty much coming to an end. This meant that awesome side characters such as Vine were widely ignored, which is what happens in this volume as well. It's mostly about Pam and Linfa's relationship in this volume.
First off, I'll start by saying the cover art is hot! Also, dark Linfa is also hot! There's still room for fanservice, even when the world is about to end. For example, the Dragonball Z-esque anti angel and anti devil guardians manage to fight Lizyerra, conveniently blowing a lot of her clothes off in the process. That's quite a punch! There's also a lot of weirdness, like when Pam uses a giant "め" to fight off the beast that's going to destroy the world.
Somehow, inbetween the fanservice shots of Lizyerra and dark Linfa just lounging around (hot!) there's also plot. Something about Linfa and Pam being bound together as only yuri protagonist and antagonist can be. Or something. Honestly, I sorta forgot. But it didn't matter anyway.
The heart of this series is really in the cute characters and how they do wacky things, even when the end of the world is looming. I don't want to spoil anything, but yeah, the world doesn't actually end. The final payoff is a generic nude floaty bishoujo almost kiss thing. You know what I'm talking about! Life goes on, as shown in the epilogue, though I personally would like to see a final chapter or volume more of what happens in this new world.
Stray Little Devil is an enjoyable manga. The artwork really does it for me. Kotaro Mori also draws the Gurren Lagann manga as well. You can check out his site here. While the story never got too deep or anything, as a whole, the manga was pretty damn good (and kept my attention for a whopping 5 volumes)! To sum it up: cute, funny, slightly ecchi, and definitely not too serious.
Many thanks to DrMaster Publications for sending me a review copy of Stray Little Devil Volume 5!