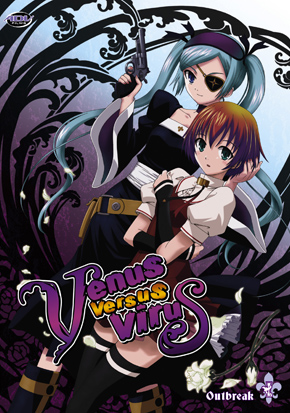 Venus Versus Virus ranks up there in the list of epic battles along with Pirates versus Ninjas and Man versus Machine. Though nothing can really beat Pirates versus Ninjas (Ninjas win!)…
DVD Blurb:
Sumire is your average everyday schoolgirl. That is, if your average everyday schoolgirl can sense demons, or Virus, around her. So, when Sumire finally meets Lucia, a virus-fighting, eyepatch-wearing power-girl form the Venus Vanguard, it's a match made in heaven. Or rather Hell, as it were.
Together, these two will work to not only find the dark forces called Virus that lurk amongst us adding innocent souls to their masses, but they will also dispose of them accordingly. They will learn from each other why a life is worth saving. They will learn from their enemies that they each have their own potential for evil. And they will hunt down the Virus and give it the beating it truly deserves.
Analysis:
I was already pretty familiar with the story of Venus Versus Virus since I had read the first volume of the manga a while back.
On the exterior, Venus Versus Virus (maybe I'll just call it VVV from now on) seems like your typical shounen-ish type monster-killing plotline. Sumire uses her special power to see Viruses and destroy them, with the help of her teacher Lucia. I think I made a comparison of this to Buso Renkin at one point. Just replace homunculus with virus, right? It's also got a little D.Gray Man in it, too.
Delving a little deeper, there are some differences. For one, the main character and her "master" are both girls versus Buso Renkin's guy/girl pairing. This leads to lots of yuri undertones, though nothing really cool ever happens… There's also the apect of Sumire going into berserker mode, which is the really the coolest part of any episode. Though even this coolness gets a little old as eventually we're just kinda stuck wondering when Sumire will hurry up and change already! It's like in Captain Planet where the Planeteers should've just summoned Captain Planet from the get-go!
Another thing that sets VVV apart from other anime is that the character designs are really sweet! Normal Sumire versus berserker Sumire is a neat contrast. Then we've got all of Sumire's cute friends, etc. There is ample use of blush, which I am in full support of. Sumire is moe, at least until she goes medieval on everyone.
For now, the plot is moving slowly, and any overarching plot has not really surfaced yet. There is an appearance by a mysterious figure at the end of one episode, though! Which is yet another cliche of the genre!
The Actual DVD:
The production budget on this DVD seemed surprisingly low. I thought the DVD picture quality was really poor, especially during dark parts. I could specifically see a lot of artifacts and huge blocks in parts where there were shadows.
The DVD had no booklet, and hardly any special features. There were some OP, ED and trailers, but that was it. It's unfortunate how barebones this DVD is.
Conclusion:
Venus Versus Virus doesn't really break any conventions in the genre of high-schooler fights monsters, but nice touches here and there make it unique enough to stand out. The yuri (though not much), character designs and animation (during the berserker rage) keep VVV from being a copycat anime. And honestly, if you like the gothic lolita eyepatch type, where else are you going to find what you're looking for?
Many thanks to ADV Films for sending me a review copy of Venus Versus Virus Volume 1!
Also see: Venus Versus Virus 1st episode impressions (with screencaps)