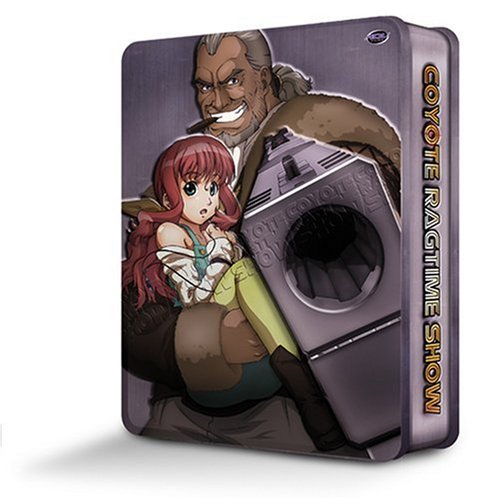 The race to Graceland (not the Elvis one) continues in Coyote Ragtime Show Volume 2! I'm actually really hoping that the twist at the end deals with Bruce being the reincarnation of Elvis Presley, and the treasure being brand new singles from the King himself!
DVD Blurb:
Mister and his misfits are at it again! The mission: To make their way to Planet Graceland before it gets blasted into the afterlife. The motive: 10 billion dollars in hidden treasure. But it ain't gonna be easy. Mister and his band of Coyotes could get busted by the Feds. Blown away by Madame Marciano and her bevy of brainy, ballistic, gothic Lolita battle babes. Or worst of all, done in by their own bombastic bumbles.
On top of all that, the insatiable, sexy investigator Angelica Burns and her plucky assistant Chelsea have a new weapon in their arsenal – the disembodied head of Marciano's daughter May. Add a flurry of threats and insults, a cunning kidnapping and a bullet in Mister's back, and you've just scratched the surface of this action-packed, anything-goes, frantically fun volume of Coyote Ragtime Show!
Analysis:
This volume was just more of the same of Coyote Ragtime Show, except maybe the stakes were a bit higher this time around. CRS is purely an action show, and each episode carries plenty of explosions and chases. But with all those action scenes, the stuff in between ends up feeling really boring. Think of it as a roller coaster ride where you ride for a few minutes, then stand in line for a few. Eventually, standing in line becomes hell, waiting for your next adrenaline fix. I could've also done a drug analogy, but I try to keep Basugasubakuhatsu.com safe as a family site (yeah right!).
As an anime, Coyote Ragtime Show really isn't that remarkable. Everything seems so manufactured, from the 12 goth loli sister robots to the daring escapes and gunfights. There's nothing really wrong with that, but you end up getting an anime that's incredibly predictable and unoriginal. The action's great and all, but if I'm not really anticipating what's going to happen next because I've already successfully predicted everything else, the show's not that interesting to watch.
Really, I think the only thing that keeps this anime interesting for me is the 12 sisters. They should have more screen time! I can smell a spinoff brewing right now. Where the 12 sisters break a really expensive vase and need to become some guy's maids/harem.
The actual DVD:
So I got the DVD that came in a big metal box. I guess it's the collector's box. It's metal, and makes metallic sounds when you hit it. It's nice, but it doesn't add anything to the actual DVD viewing experience.
The DVD itself has like, no extras. Okay, it has clean OP and ED, and some production sketches, but I never count those as extras. How about a making-of featurette of the claymation ED? That'd be cool.
Conclusion:
Coyote Ragtime Show is a pretty sweet action and explosion show. But that's about all it's good for. If that's what you're into, by all means, grab a volume of CRS and some tickets to the next monster truck rally! Me? I prefer my anime with a hint of brains. Mmmm, brains…
Many thanks to ADV Films for sending me a review copy of Coyote Ragtime Show Volume 2!