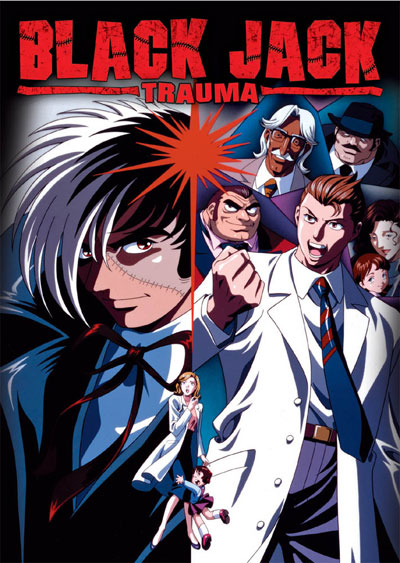 So I was supposed to watch Black Jack: Incubation before watching Black Jack: Trauma, but because of Central Park Media's wacky naming conventions on their Black Jack DVDs (not using volume numbers), I ended up seeing this one first. I don't think it matters that much anyway, since the episodes tend to be stand-alone stories.
DVD Blurb:
In a war zone devastated by minefields and strife, a dying child is missing. She fights a foe more deadly than any terrorist. Her heart is a time bomb that will kill her even as the explosions annihilate her home.
Can renegade doctor Black Jack recover his patient before both their lives are claimed by war?
Analysis:
I actually hadn't read that above DVD blurb until just now. Compared to the actual story, the blurb makes this episode sound exciting! I was actually quite disappointed in this episode for a number of reasons.
Here's how the story goes: Black Jack goes to a civil war zone to operate on a refugee. A volunteer doctor there meets him and gets Black Jack in touch with a famous doctor back in the states. Apparently this famous doctor wants to give Black Jack an honorary license so he can practice medicine legitimately. Then the first doctor's (there's a lot of doctors!) husband gets all cranky and doesn't want Black Jack to have a license. But then Black Jack cures someone and convinces the whiny doctor. But then Black Jack leaves without taking the license!
If you read through all of that, it's about the same watching the actual episode, except reading it takes far less time. The episode really has nothing to do with actual medicine, and a lot about medical bureaucracy. But that's boring! The whole point of Black Jack is to show how he solves medical mysteries, and this episode just explains it without showing anything.
I should also note that I've been watching a lot of House M.D. so maybe that has something to do with me thinking this episode was boring. It's a lot more interesting when patients get seizures and the doctor's hopped up on painkillers…
The Actual DVD:
The previous Black Jack DVDs I reviewed had 2 episodes each. This only has one… Actually, if you're buying these DVDs (I still recommend Black Jack, but this episode blew), you're better off getting the collections (One and Two) since they're cheaper that way. But yeah, I was disappointed in the 50 minute running time, along with the crappiness of this episode.
Conclusion:
Black Jack is typically good, so it was kind of disappointing seeing this relatively boring episode. Maybe it's just an anomaly or perhaps it's a shark-jumping. I should probably go backwards now and watch episodes 5&6…
Many thanks to Central Park Media for sending me a review copy of Black Jack: Trauma!