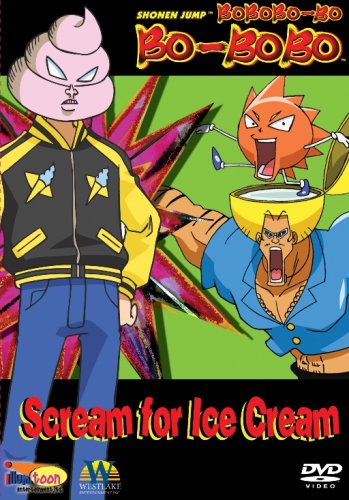 I got the Bobobo-bo Bo-bobo Volume 2 DVD, really hoping that it'd be better than the first (which was the replacement one since the first first one was really really bad). So has Illumitoon improved on its wacky DVD making skills?
Story:
In this volume of Bobobo, we get a sense of actual plot! Well, not really, but the show is actually starting to resemble a shounen show despite all of the randomness. This arc (if you can call it that) involves Beauty being hit with a hair removal beam. If she doesn't get an antidote within 10 hours, her hair will fall out! Don Pachi gets hit with the beam too, but instead of his hair falling out, he just turns into some kind of invincible fortress…
So the gang must climb up a tower with bosses on each level, much like Bruce Lee did in Game of Death! Two of the levels are video rental stores, though… at the fourth level, they fight the ice cream head guy. But they don't get to the top of the tower until the next volume!!
Analysis:
For some reason, Bobobo just seemed less funny to me this time around. There were a few funny parts (like when they were following the bad guy on the train to his secret base, only to find that he had a seat right next to them), but most of the jokes just weren't funny.
In addition to that, it feels like Bobobo is trying to parody boring shounen shows like Dragonball Z, but it ends up being just as boring. It seemed like Bobobo was trying to be serious at points (GASP!). Ah well, maybe 4 episodes of Bobobo is too much for one sitting.
The Actual DVD:
While somewhat improved from last time, this DVD is still pretty horrible. The subtitles on the 7th episode were yet again off by about a second! Does anyone quality check these before printing them? Seriously, do the people who make these DVDs actually watch them first!?
The subtitles also have the problem of going by too quickly when there's a title on the screen. And there's still the stupid practice of having subtitles for every possible sound effect. Like "(breathing)" will show up when a character is breathing… I noticed another instance where a subtitle for something Don Pachi said didn't show up at all!
It's pretty clear that the subtitles are still just an afterthought to Illumitoon. Something they just slap on to "please" the fans that ask for it. Except that the quality is so bad, it's more likely to incite their anger even more…
Conclusion:
Maybe the magic of Bobobo is wearing off on me. Or maybe 4 episodes of Bobobo in a row is more than anyone should ever watch in one sitting. Or maybe both. The subtitle track on this DVD is still pretty horrible. Watching without a subtitle is fine, though. Hopefully Illumitoon will get their act together before alienating their fans completely.
Many thanks to Illumitoon for sending a review copy of Bobobo-bo Bo-bobo Volume 2: Scream for Ice Cream!