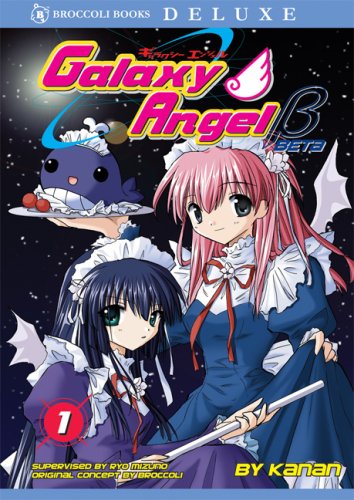 The Galaxy Angel saga continues with the Galaxy Angel Beta series. But if it's "beta," wouldn't that suggest a prequel of sorts? And what happened to alpha? Unless the original was an implied alpha…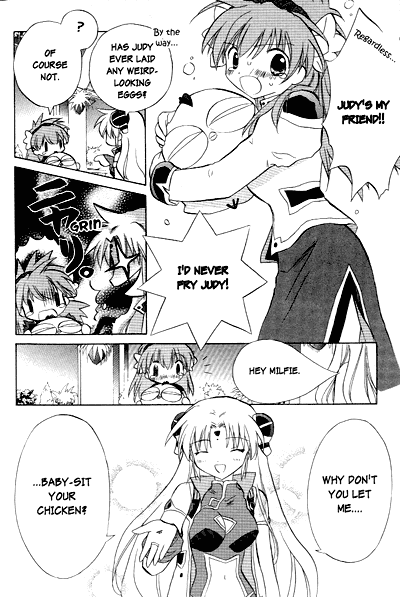 Story:
The Angel-tai is back with a new member: the amnesiac Chitose! All she remembers is that she totally loves the Galaxy Angel-tai. Everyone has made it to the white moon and the Elle Ciel is fitted with a new superweapon! But instead of figuring out how to use it, the girls just kinda do their own things.
Analysis:
The entire volume of Galaxy Angel Beta 1 feels like a really big filler, or if you're optimistic, a character building volume. We get 1 chapter of beach fun, then Ranpha gets a chapter, then Mint, then Vanilla, then Forte. There's nothing wrong with some character development, but it feels like nothing really got accomplished.
The chapters were still fun though. Like with Milfeulle's chicken attacking Forte for eating Yakitori. Also, Vanilla-san is hawt. Probably the hottest of the Angel-tai, due to her coolness. So yeah, even without plot advancement it was an enjoyable volume.
The Actual Book:
Broccoli Books is pretty cool when it comes to including extras in their manga. In the case of Galaxy Angel Beta, they've included a preview of the next volume, and a bunch of character sketches and whatnot. While I think that character sketches are stupid when it comes to DVD releases, I really like when they're in books. I guess it's because they seem more real that way. Also, Vanilla is hawt.
Conclusion:
Who needs a plot when you have the Galaxy Angel squad doing random stuff? Some of it is cute, and some of it tragic, but it's nice to see what the heck the characters were doing before they joined the squad. Maybe next time we'll see what they'll be doing in the present!
Many thanks to Broccoli Books for sending a review copy of Galaxy Angel Beta Volume 1!