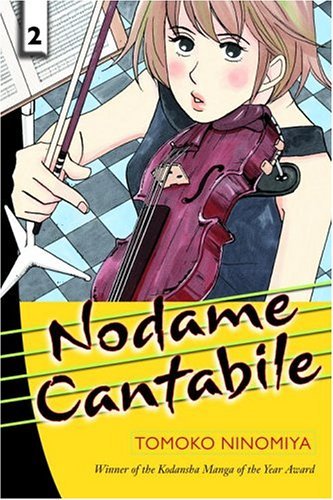 Nodame Cantabile Volume 2 introduces two new cliche characters: the gay timpani player and the perverted master conductor. Did I write "cliche?" I meant weird.
Story:
Chiaki has enough to worry about with Nodame depending on him for food, and Mine just being generally annoying. On top of this, he's being stalked by a homosexual timpani player. What!? Everyone knows that the guy flute players are the ones that swing that way! Anyway, Masumi has a competition with Nodame to see who can get a date with Chiaki on Christmas Eve. They both lose.
Then in the second half, the perverted grand master conductor Stresemann shows up and creates an orchestra full of dropouts. Which of course, contains Nodame, Mine, and Masumi… Chiaki ends up conducting them through a series of unfortunate events. But can he pull it off?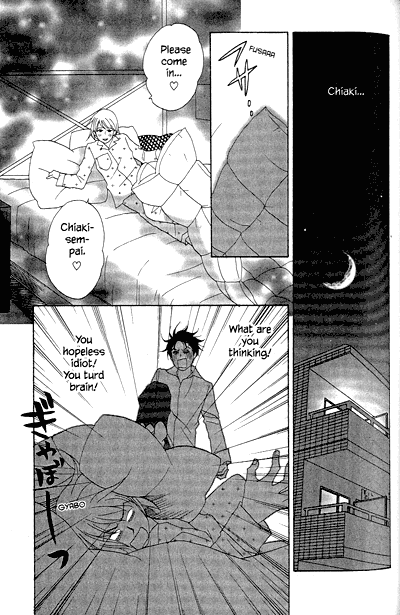 Analysis:
The additional characters add a lot of craziness to Nodame Cantabile. Masumi is great as Nodame's hopeless rival. He's not really a complicated character or anything, but he is pretty good for random gags. Mine is also great as the guy who thinks he's good, but sucks hard. I spent years in bands, so these stereotypes are especially funny to me. Mine should really be a trumpet player, though; we're the egotistical ones.
So I'm slowly watching the anime along with reading the manga. I noticed that there's a story in the manga that didn't show up in the anime. It's about Chiaki's hatred for the iconic Japanese kotatsu. He links it as the source of evil in his apartment. That chapter also contains some fun sexual misunderstanding when Mine and Masumi walk into Chiaki's apartment to find Nodame in her pajamas!
Conclusion:
Nodame Cantabile is an awesome manga. I really like the random humor (and sounds that Nodame makes). I can also appreciate it on the musical level, since I'm a musician myself. And on the college student level, because I'm still sort of a college student!