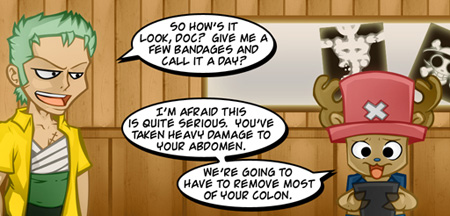 One of my favorite web comics is VG Cats, though the updates are seriously way too few and far between. I guess Scott Ramsoomair is a fan of anime, so sometimes the comics will be about anime, and not video games.
In a recent (relatively, at least) comic, Scott tackles the widely known anime rule that band-aids heal everything. Not just minor cuts and scrapes, but everything. I actually think that it's the band-aids in conjunction with sleep that will heal everything.
When you think about it, it's not really so far-fetched. I mean, if Usopp can survive a direct hit to the head from some blunt object (I think it was a hammer), who's to say he can't be healed with bandages and sleep? This phenomenon is also seen in a bunch of other shounen anime like Naruto and Bleach.
Now, if they had only applied the band-aids correctly to Haruka Suzumiya, maybe things would've turned out better…