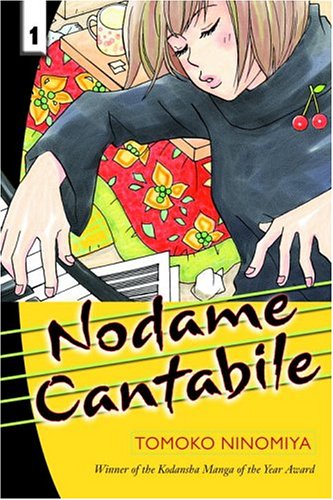 Nodame Cantabile is probably one of my top (if not the top) anime of Winter 2007. I bought the manga since I really enjoyed the anime. I finally got a chance to read it on an airplane, which I can ride, and Chiaki can't! Ha ha.
Story:
Chiaki Shinichi is the top pianist at his college. He's also really good at other instruments too. The problem is, he wants to be a conductor. After getting into a fight with his current piano teacher, he's demoted to having the worst piano teacher ever. Among this new teacher's students is Noda Megumi, or as she likes to be called, Nodame.
Nodame plays the piano well, too. But her style is to listen to the music before she plays it. As a musician, I call her a dunce. Nodame and Chiaki seem like two polar opposites, but maybe they need each other to learn the real meaning of music!
Because he's afraid to fly on an airplane, Chiaki is stuck with an ever growing band of music weirdos. Will he ever be reunited with his mentor, Viera-sensei?
Analysis:
Nodame Cantabile is really about characters. Chiaki is mean and strict, and Nodame is kind and an airhead. Together they create comedy gold! It's also a plus that Nodame is hopelessly in love with Chiaki, while Chiaki continuously brushes her aside. It is notable, though, that when Chiaki hears that Nodame might be a couple with Mine, he gets somewhat jealous.
This manga is simply a lot of fun to read. As the story progresses, more strange characters are added to the mix, and it gets pretty crazy. I noticed that the anime goes in light speed compared to the manga. Like the first three chapters of the manga were stuffed into the first episode of the anime. There were some details that were left out though. It's kind of sad to see the manga get so heavily abridged when it's so enjoyable to read.
Add to this that the manga is about music, and you have the ultimate manga for me. I'm a music nerd (in addition to being a computer nerd) so yeah, Nodame Cantabile is awesome.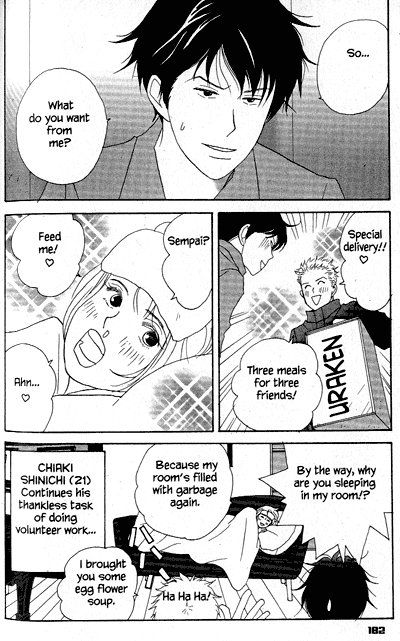 Character Designs and Art:
One of the things I noticed about Nodame is that in the anime, her hair is brown, but in the manga, her hair is left uncolored. I thought that this usually signified blonde hair, though I guess it would work for light brown too. It took some getting used to, but I can handle it.
The art is comicky, but it makes sense for the story. I love how Nodame makes funny faces when she plays the piano. She's so freaking cute! I also love her piano patterned bag. I think she's the type of character I would go for in real life, even if her hair did smell bad…
Conclusion:
I really like the Nodame Cantabile anime, and I also like the manga. I'm not sure which one I like more, though. It is pretty fun hearing Nodame say stuff like "GYABO!" in audio form, rather than reading it (plus Del Rey doesn't translate it literally). I still like how the manga contains "more" than the anime, so I'll probably continue reading this and following along with the anime too.