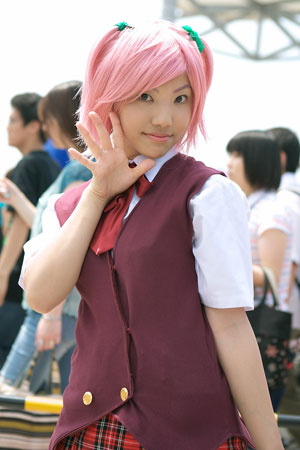 This is just some random cosplay image I found on sagbooru, or danbooru 2, or whatever the new danbooru is.
So according to ComiPress, there's going to be a Negima live action drama! And that's about all the news there is.
Personally, I dunno if a live action Negima can work. I don't know if there's any real life kids who could fit the Negima role well. Plus with all the girls, I'd have a feeling it'd be hard to tell them all apart (unless they actually had pink hair, etc).
Also, would you really want to watch a 7 year old boy get into ecchi situations with 13 year old girls in real life? The anime version works because the girls at least look like they're older than that. You can sorta suspend your disbelief when it's anime and manga, but with real life? I think it'd just be creepy.