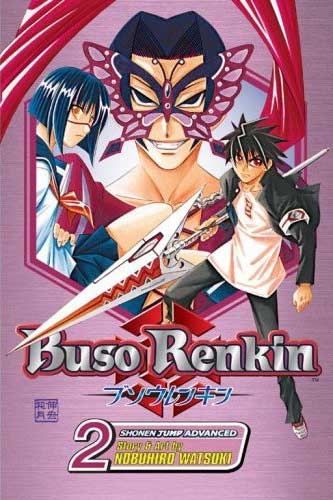 In the second volume of Buso Renkin, the butterfly glasses guy is featured prominently. This obviously makes the volume the greatest in manga history. Or does it?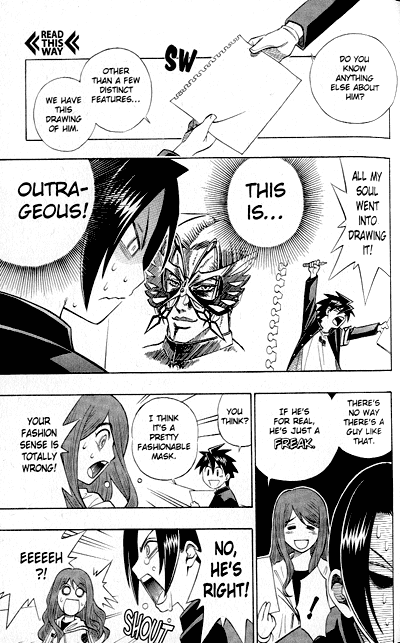 Story:
Kazuki and Tokio only have a few more days before Tokio turns into a homunculus forever. Their search for the homunculus creator intensifies, and they actually end up finding him! Unfortunately, his last remaining homunculus saves him and attacks Tokio and Kazuki. They end up fighting for quite a few chapters. It drags on.
When they finally get back to town, the butterfly glasses guy (I like calling him that, ok?) turns into a humanoid (and superhuman) homunculus himself! Kazuki ends up prevailing and Tokio gets the antidote in time! Yay! Well come on, no one really thought Tokio was gonna die in just the second volume of the manga, right?
Analysis:
This volume of Buso Renkin was a lot more enjoyable than the first. With all of the explanatory story out of the way, the manga had more of a chance to just let things happen. There was a lot more humor, and the humor was actually funny. I like how Tokio called Kazuki on calling out his special moves. Later on, Tokio told Kazuki to stop listening to his opponent's questions and stop answering them.
I did think that the battle with the homunculus took way too much time, though. It took four whole chapters! At least we the volume itself ended with some resolution (butterfly glasses guy getting pwned). Also, the relationship between Tokio and Kazuki is sort of becoming more fleshed out. At least, all of Kazuki's friends think they're serious now…
I think this manga is sort of changing from a serious shounen one to more of a parody. Like with all of the in-jokes, it seems like it could do well as an anti-shounen manga if that was the intention of the author. I personally think it'd work better as such.
Conclusion:
This volume suffers a bit from shounen fight-itis, but the humor is pretty good when it's there. Hopefully this manga will try to do something new. It has a lot of potential for lampooning the shounen manga genre, but I'm still not sure if it'll really do it.
Thanks to Viz Media for providing me with a review copy of Buso Renkin Volume 2.