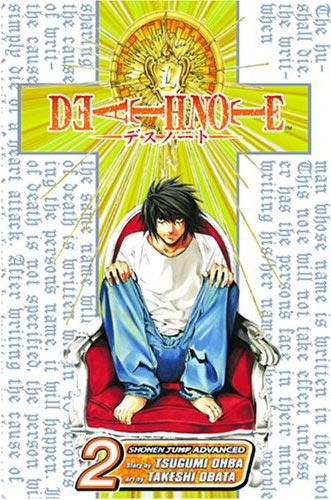 I hadn't been watching the Death Note anime this season, and since the anime got licensed, I guess I won't be for a while. I'll get all of my Death Note action from the manga for now. It's faster, and farther in the story than the anime anyway… Here's my review of Death Note Volume 2.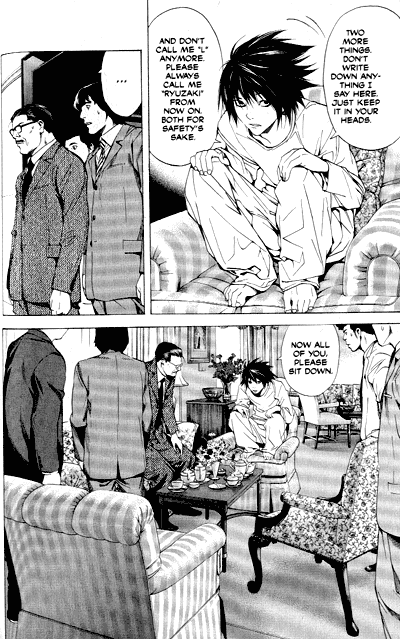 Story:
In this volume of Death Note, Light uses the FBI agent who was on the bus with him to get the names and faces of all of the FBI agents working in Japan. He also has fun with L by sending him messages about how Shinigami like apples. Meanwhile, L finally shows his face to the remaining few people who are willing to risk their lives for the case.
After Light kills the FBI agent, Raye Penber, his mourning fiancee vows to avenge his death by finding Kira! By chance, she happens to visit the task force office at the same time that Light is running an errand for his father. Light has to figure out how to gain her trust before she gives a clue that could out him as Kira.
After cleverly disposing of the agent, Light comes home to find out that his room is bugged. Oh noes! No more Mario Golf with Ryuk! Luckily he wrote some names in the book ahead of time, so it won't look weird when he suddenly stops writing in the Death Note.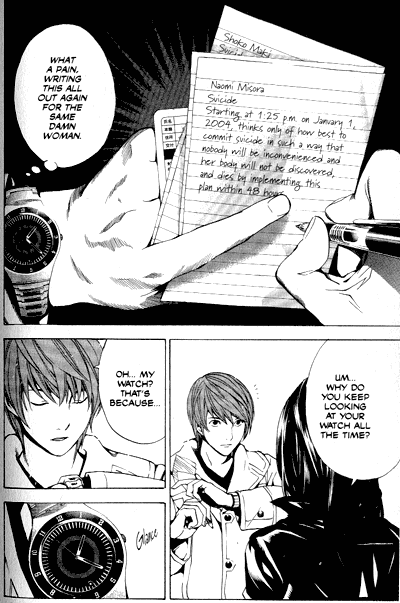 Analysis:
In the first volume of Death Note, Light seems like an okay guy. He's just killing bad guys who probably deserve to die anyway. In this volume, Light becomes a lot more evil. He kills an FBI agent with a fiancee, then he kills the fiancee after telling the agent that he'd spare his family!
While Light is kind of a jerk, he also happens to be way smart, which is cool. He keeps using the Death Note in new ways which keeps the story interesting. Right now the story is so original and smart that it's wonder Death Note was picked as one of the top ten manga for teens. Hopefully the manga can keep the freshness flowing.
It's pretty funny how they built L to be some kind of super sleuth, and then when you see him he's this baggy eyed weirdo. He definitely has a unique personality.
Conclusion:
Death Note is pretty freaking awesome. I don't know about the anime, but the manga is totally sweet. I pretty much read this volume from cover to cover in one sitting because it was so engaging. Now if only I had volume 3 on me…