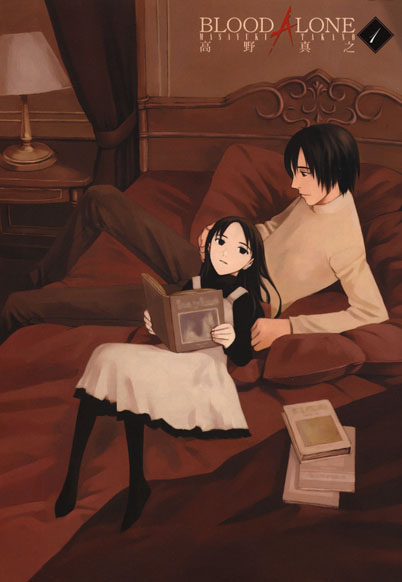 So I entered Julie's manga contest over at Manga Maniac Cafe and actually won! I had never heard about Blood Alone before, but I was so stoked at getting the manga in the mail that I read it all from front to back! Well, back to front, technically, I mean, it's manga…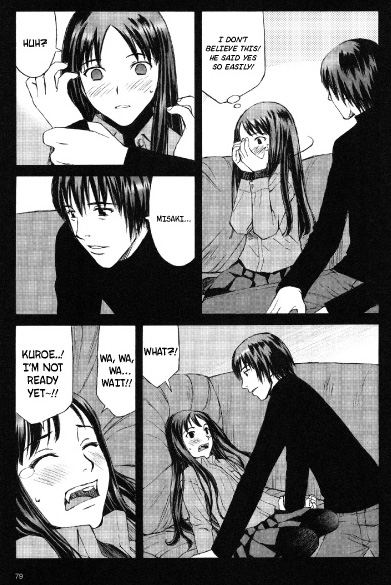 Story:
Blood Alone is the story of a vampire girl Misaki and her… partner Kuroe. Kuroe appears to be a freelance writer while Misaki just kinda freeloads. They both lost their families to an evil vampire and are relying on each other to get by. The attack that Kuroe suffered from the vampire has given him the ability to see things that normal humans can't. I'm guessing that the main plot line is going to involve Kuroe and Misaki seeking revenge.
In the first volume, we see an average day with Misaki and Kuroe before moving on to a supernatural crime investigation that resembled Fallen quite a bit. The end is fairly original though, pitting vampire against evil possessing spirit. The last few chapters are also lighthearted with Misaki and Kuroe going on a hot date!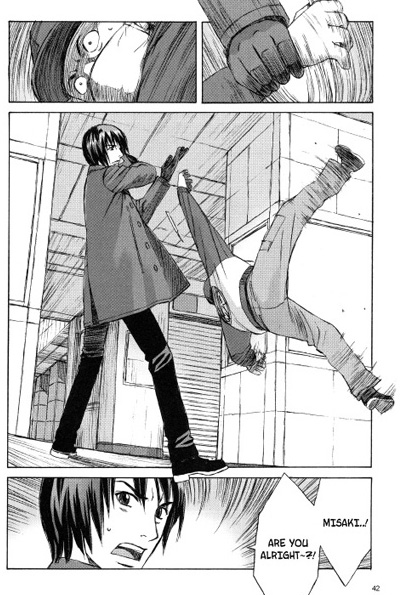 Analysis:
Since I had no idea what this manga was about when I started reading, I was totally surprised when Misaki turned out to be a vampire! I can't help but compare Blood Alone to Tsukuyomi Moon Phase. There's the cute vampire girl and her servant. Kuroe isn't really a servant as much as a big brother to Misaki. Then again, big brothers in manga and anime are pretty much lovers…
I really liked how the story was explained through subtle observation rather than some kind of narration. It really makes the characters seem more real and the story more intimate. There's a good balance of action, romance, and cuteness: the holy triad of manga. Like in one chapter, the characters will be chasing a serial killer, and in the next they're riding a ferris wheel.
The artwork for Blood Alone is really nice. The characters themselves don't look all that original, but they're all drawn well. Misaki is cute, especially when her fangs pop out. There's also a lot of attention given to the background art. I usually don't notice the mise-en-scene in manga, but it was really well done in Blood Alone.
The book itself is done really nicely. The paper is high quality and the book includes a color insert. There's also a nice dust cover included, too. Infinity Studios seems like one of the higher quality publishers out there.
Winning a manga from a contest is always pretty cool. It's even awesomer when the manga turns out to be really good. If you're a fan of vampires, cute girls, or cute girl vampires, I'd highly recommend Blood Alone.