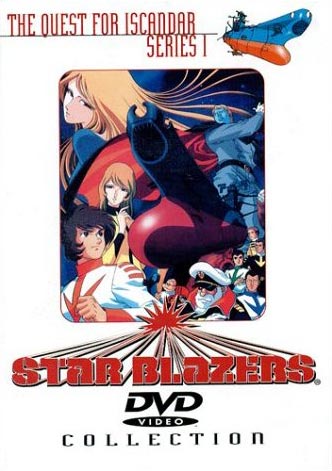 Star Blazers is a totally retro anime that was known in Japan as "Space Battleship Yamato." It's considered a classic anime and therefore, a must watch! But does the "classic" label mean it's too old to be compared to current anime?
I recently had a chance to check out the Star Blazers Series 1 DVD Collection. Here's my review of Disc 1 (Episodes 1-5).
Story:
The Earth is under attack by aliens! Specifically, evil blue aliens called Gamilons. They're bombing the Earth with radioactivity! As a result, humanity has to live underground. The radioactivity is seeping though, and Earth only has one year before all of humanity is killed off!
Luckily for the humans, help comes from another alien race. Iscandar sends a message with plans for a "Wave Motion Engine" that can send a ship to their planet. The plan is that the Earthlings go to Iscandar, find some kind of cure for the radiation and bring it back before Earth dies.
The humans use an old crusy battleship called Yamato and retrofit it into a space battleship! Meanwhile, the Gamilons are being jerks and trying to stop the Earthlings. At the end of each episode, there's a Mahoromatic-esque message telling us how long Earth has before all life ceases to exist!
Analysis:
The dilemma for me is to figure out how to review this anime. Should I compare it to the other anime I'm currently watching or treat it as a classic? I guess I'll take the middle road.
While the story isn't the most original today, it was back in 1974 when the anime came out. While watching, I thought to myself, "hey, this is kinda like Star Wars!" Star Wars wasn't released until 1977…
As far as the character designs go, they work fairly well. The robot and the crazy scientist are really annoying, but I think they're supposed to be. There's also Nova, who looks exactly like the girl from Queen Millennia and Galaxy Railways and a ton of other retro anime. Can anyone explain to me why this character design pops up so frequently?
The story was actually pretty interesting once I got into it. I should probably just go ahead and marathon the whole series. One thing I noticed is that the science in this anime is kind of bad. Like they talked about doing a space warp, got to Mars, and then someone said that they went 1000 lightyears. Um, yeah, I'm pretty sure Mars is not 1000 lightyears away… Also, I find it hard to take the Gamilons serious with their crazy accents, Nazi gear, and blue faces. They just seem so sterotypically evil…
The DVD:
One of the weak points of this anime is the presentation on DVD. The transfer is really bad. It looks worse than VHS. Of course, this is an old series, so I don't expect it to be in HD. I'll give the producers the benefit of a doubt and assume these were the best transfers available.
Another annoying thing about the DVD is that there's no Japanese language track. On most DVDs this comes standard, but I guess the target audience for this DVD is people who saw the series on TV as a kid in English. The English voices aren't terrible, but they take some getting used to.
The first DVD has a few extras including a tour of the Yamato. They're a nice touch, though they don't make up for the rest of the DVD's lack of features.
Conclusion:
Before watching the anime, I read a little bit about it. The stuff I read was very positive and might have blown up my expectations to higher than possible levels. After watching the first disc, I'm not convinced this anime is a classic. It's definitely enjoyable, but there are things that could have been done better (the video quality + audio tracks).
The story is interesting enough though, and the characters are beginning to endear themselves to me. It's probably not fair to rate an anime based on the first five episodes anyway (though I do rate a lot of anime based on one episode…). I'll definitely do another writeup once I finish the next disc (or marathon the series).
Many thanks to Voyager Entertainment who provided me with the review copy of Star Blazers.