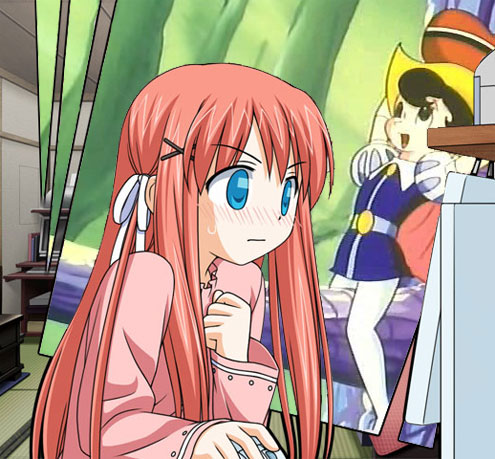 I wonder if this'll start a meme…
One thing I've noticed over the past few months is that more and more older anime series are being picked up by fansub groups. It might seem odd that some of the newer and prettier anime from the current season still haven't been picked up while older series such as Queen Millennia are subbed.
Why would anyone sub Princess Knight, Peter Pan no Bouken, or Queen Millenia over (insert latest super dumb shonen anime name here)? Once you actually watch these old anime, however, it becomes apparent why the fansub groups decided to sub them: They're good.
They might not have the super high quality animation that you might expect from modern anime, but I think retro anime have a certain charm of their own. From shows like Princess Knight, you can see where the early Japanese animators were clearly inspired by Disney cartoons. In Queen Millenia, you can see the advancement made in character design (super hot Uma Thurman-esque babes). Peter Pan no Bouken's animation quality (from 1981) seems to rival some of today's (low-budget) anime.
On top of the historical value of watching old anime, there's also the entertainment value. There's a reason that this anime has stuck around for 30+ years. The stories might seem cliched today, but they were really the basis for all the cliched anime you watch today! Actually, I don't know how to feel about that…
Anyway, I personally welcome the release of retro anime. It gives us a view of the roots of the current anime, plus they're just fun to watch. Hopefully the fansub groups will be able to get through the whole series, rather than do a handful of episodes and then give up. Plus more retro anime = more anime to add to my backlog! Yeah!