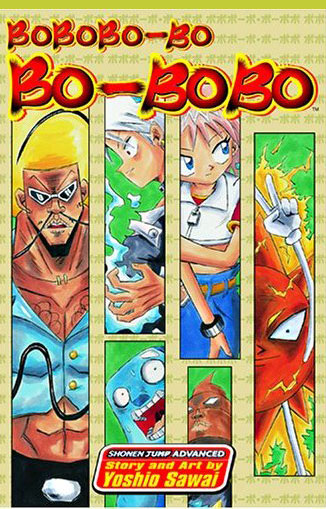 So during my last Amazon.com manga shopping spree, I decided to pick up the Bobobo-bo Bo-bobo manga. I had seen the anime when it was being subbed, and I thought it was hilarious! Sadly, whenever I show it to anyone, they're all, "WTF?" I think only my cousin found it somewhat amusing. Living a life without cable, I still can't watch the Bobobo-bo Bo-bobo anime, so I'm stuck reading the manga.
Bobobo-bo Bo-bobo is the story of the main character, Bobobo-bo Bo-bobo. He's on some kind of mission to fight an evil empire that wants everyone to be bald. He fights his enemy with nose hair. There's also Don Pachi (who looks like a small sun) and Jelly Jiggler (who is a giant thing of jello). Some guy with a head made of poop shows up later on. This manga is really weird.
Interestingly, the story of the manga had nothing to do with the episodes of the Bobobo-bo Bo-bobo anime that I watched before. It was like a whole new (or old) story. Then again, it's not like anyone actually reads/watches Bobobo for the story…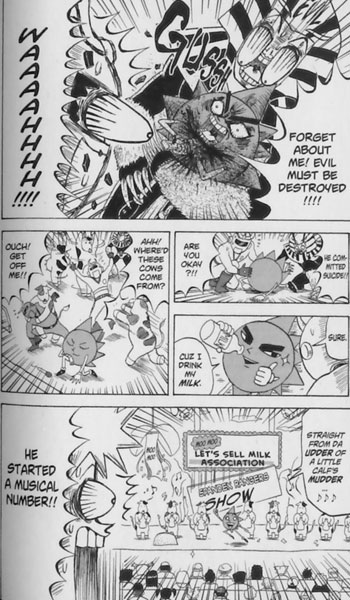 Basically, the flow of the manga goes something like this: Bobobo faces an enemy. Bobobo does something weird to confuse the enemy. While the enemy is confused, Bobobo attacks for massive damage. Don Pachi and Jelly Jiggler are routinely used as weapons. Either Beauty or the Mystery Guy have their eyes bug out. Repeat.
While this is funny the first few times, eventually you start expecting weird stuff to happen, which makes it less funny. There were still some parts later on that I laughed at though, mostly because they were so stupid.
For some reason, I think I like the anime better. It just seemed to make things flow better. Maybe that's just my manga reading inexperience, though.
This volume was actually pretty thick (250 pages) compared to other manga I own. There's also no "Volume 1" title or anything. I have a feeling that the publishers probably thought they wouldn't be able to ever do a second one, so they skipped the whole volume naming.
If you like the TV series, I'd suggest picking up the Bobobo-bo Bo-bobo manga. If not, you may be seriously confused. Just like Bobobo's enemies…