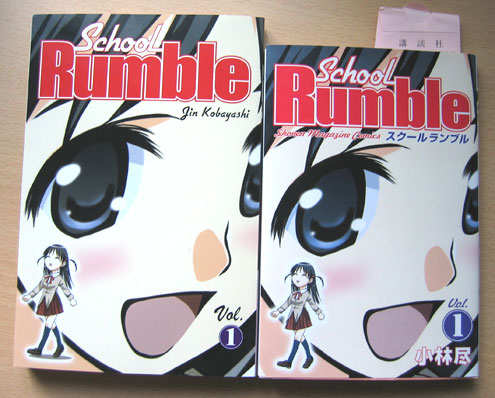 Around March of this year, while on a trip, I happened upon the import manga section at a Borders book store. For some reason, I don't think that the Borders near my house has any import manga… Anyway, I bought the first two volumes of School Rumble, and they sat on my bookshelf for about 3 months.
Actually, I got through the first three or so chapters using my three years of college level Japanese, and this handy online dictionary! Still a bit too slow for my tastes, though. It took like, 5 minutes per page!
About a week or so ago, I got my Amazon.com order full of manga goodness! This included the first volume of the English translated School Rumble manga. I thought I'd compare the two since they've got quite a few differences (besides the obvious language difference).
Appearance:
If you'll check out the above picture, you'll notice that the English version (on the left) is bigger than the Japanese version. The paper quality also seems a little higher than the Japanese version. The paper seems a bit whiter, whereas the Japanese one seems yellower. Maybe it's just because the Japanese version is older?
Sounds like the domestic manga is the winner, right? Not necessarily. I found that the ink on the English version was darker than the Japanese, and thus, the contrast was too low. On some pages, Tenma's jacket was totally black, and as dark as her skirt. Maybe I'm nitpicking…
The Japanese version also has a cool book cover with color on the front, back, and on the flaps. My new header image is taken from one of the flaps, as a matter of fact.
Let's take a look inside, shall we?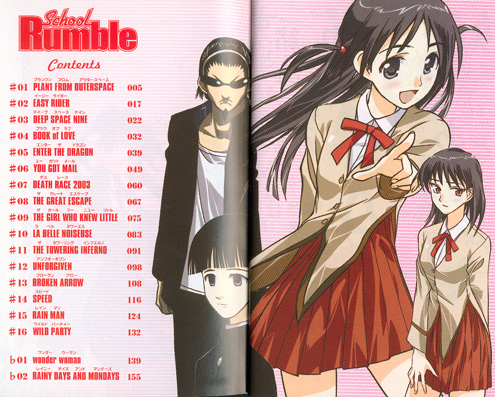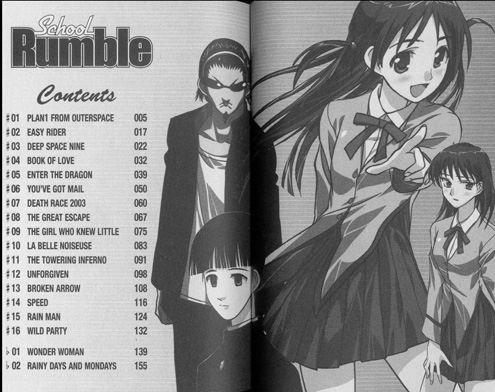 The English version only has color on the cover. Everything else is black and white. The Japanese manga has a few extra color pages which, in my opinion, are way sweet!
Content:
As far as content, both manga contain, well, the School Rumble manga… Let me explain how I've been reading the books. I keep the Japanese one and the English one open to the same page, and try translating the Japanese before falling back to the English translation. So pretty much I guess, and then check to see if I was right. Still pretty slow, but it's helping my Japanese literacy tremendously.
The English translation seems pretty faithful (as far as I can tell), and when something is changed, it's really well documented in the translation notes. While I'd rather have a literal translation with inline notes (since I'm interested in Japanese culture as well), I can understand why they need to change things around. At least the translator tries to keep things somewhat close. Example:
When Tenma is having a hard time writing "Suki," she writes "Sukii wo shiteru sugata wo shiteru wo mitemitai desu" (I want to see you go skiing?). The English translation (for love instead of suki) is "I load my stuff into the mountains to watch you ski." So at least it was still about skiing…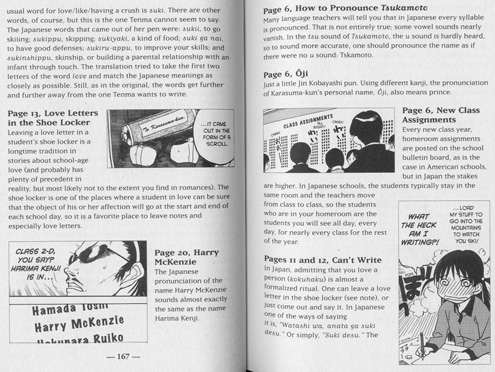 The English version also has translation notes which the Japanese version doesn't have (duh). These are actually really helpful, because they explain stuff about Japanese culture that I would probably have a hella time figuring out.
Verdict:
I'd say that instead of judging one or the other as the winner, they're both great together. The Japanese one is sweet because it's the authentic one, and the English translation is cool, because it'll help me get through the Japanese one and explain obscure cultural stuff. Overall, I think Del Rey did a good job with this (at least their translator explains his alterations and stuff fairly well).
Sure, together they cost me about $20, but I think after reading through a few volumes, I won't need the English one anymore. At least, I hope so…
Oh, I should also say that School Rumble is a darn good manga (and anime). So buy it!