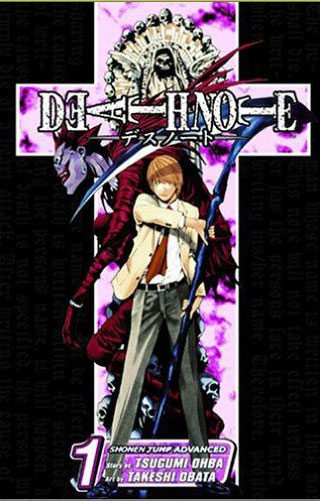 My shipment of manga from Amazon.com came in, and though I've been busy adding features to Anime Nano, I found some time to read volume 1 of Death Note. I usually lean towards the cute manga, so I was taking a gamble with this one. So does this manga deliver, or would I rather write my own name in the notebook after reading it?
Death Note tells the story of Yagami Raito (given the translation "Light" in the English manga). One day he finds the notebook of a bored shinigami. The "Death Note" allows him to kill anyone whose name and face he knows within seconds.
Being a righteous guy, Raito uses these powers for good (in his opinion), and kills scores of international criminals. He figures the world would be better off dead without them, and he's doing everybody a favor. After Interpol figures out that someone is murdering these criminals, they send super-secret agent "L" to catch Raito.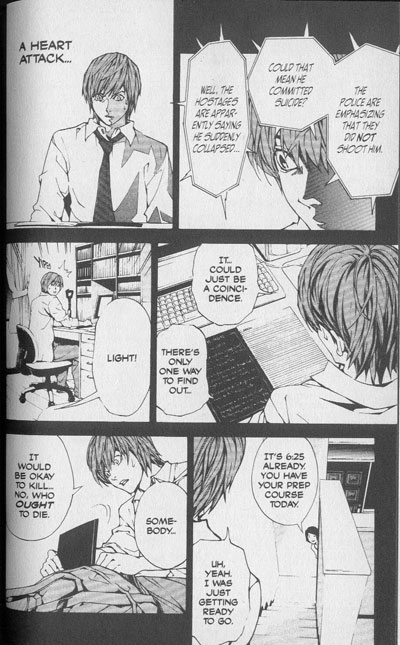 The story (so far, at least) deals with the cat and mouse chase between L and Raito. L is supposedly the greatest detective ever, but Raito seems like a worthy adversary. It isn't really clear who is actually on top, since both L and Raito are both really good at playing the game. It was a little suprising to me that this much cognitive energy was required while reading a Shonen Jump manga, but I welcome it!
I thought the manga kind of put aside the issue of whether or not Raito is actually Raito or Wrongo (sorry, couldn't resist). Even the authorities who are tracking him down aren't sure if they're doing the right thing. He is getting rid of criminals, after all. It would be interesting to see what Raito would do if he found out that he had killed an innocent person who was framed… Maybe they'll explore this later on in the manga.
I guess it's left to the reader to decide how they interpret Raito's actions. Again, this seems really contrary to most of the mindless stuff that Shonen Jump releases. Technically, it's released by "Shonen Jump Advanced," so I'm not sure if there's a difference.
Not everything is high-class, though. Those Interpol scenes seemed really stupid and silly to me. Are their meetings always that dramatic?
While I usually try to take it slow with manga (for maximum enjoyment), I pretty much read this whole volume in one sitting. Each chapter left me wanting to find out what happens next. The stakes keep getting raised higher and higher as Raito and L try to find out who the other is.
Generally, the opinions I've read about Death Note are good, and I agree. I wasn't too sure about what I was getting myself into when I bought this manga, but I was pleasantly surprised. If you're into detective-type stuff, or the morbid in general, I'd suggest checking out the first volume of Death Note. Then again, a live action movie and anime are coming out, so I dunno if I want to spoil it…