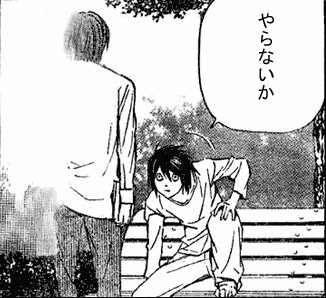 Wanna download it?
I just got this press release from Viz stating that the Death Note anime has been licensed and that it'll be available for download while the series is still running in Japan:
San Francisco, CA, January 10, 2007 – VIZ Media, LLC (VIZ Media), one of the entertainment industry's most innovative and comprehensive publishing, animation and licensing companies, has announced that it has licensed from Nippon Television Network Corporation (NTV) the Download to Own (DTO) and Download to Rent (DTR) rights for the United States for the smash hit DEATH NOTE anime series, currently airing in Japan.

The deal is significant because it marks the first time a well known Japanese anime property will be made legally available to domestic audiences for download to own while the title still airs on Japanese television. VIZ Media will seek to make the series available to consumers through a number of online providers in order to reach the widest audience possible.
Like the press release says, this is significant because American audiences will be able to watch the anime before it's even finished airing in Japan. While this is slightly cool, I have a feeling that the actual downloads will be DRM'ed to hell and only available in English dub form.
I think the ideal solution would be to offer subbed downloads on the same day of airing in Japan. Surely this wouldn't be a problem for the company itself, as they would have access to the scripts. They would beat the fansubs (and even speedsubbers) to the punch, and I'd assume their translations would be fairly accurate. If pricing was decent (like $1 an episode?) I would totally buy it.
Previously on Basugasubakuhatsu:
Death Note – Anime First Impressions
Death Note Vol. 1 – Manga Review