Back when I did my first preview of REC, all I really knew about it was that it involved a seiyuu. A hot seiyuu! Even with that small amount of info, I had a feeling it would be a pretty good anime. Okay, so maybe I just thought the picture was hot… So how does the first episode hold up?
REC follows the relationship between the pathetic salaryman Matsumaru and a cute aspiring voice actress, Aka. They meet when Matsumaru is about to throw away a pair of movie tickets after being stood up. Instead, Aka convinces him to watch the movie with her. She keeps reading the subtitles outloud and saying she wants to be Audrey Hepburn. Weird.
After the movie, Aka takes Matsumaru out to console him (his treat). They part ways, but for reasons yet unknown, Aka's house burns down and Matsumaru offers to help (take advantage of) her out by letting her stay at his place. This is the part where I refuse to suspend my disbelief. Am I really supposed to believe that a girl would stay at a dirty unfamiliar salaryman's house the same day she meets him? And have sex with him!? I guess Japanese girls are easy following their house being burned down…
The character designs for this anime are interesting. Aka is really cute. The amazing part is that she accomplishes this feat without being uber chibi or deformed. I will say, however, that Aka seems a bit less… endowed in the anime versus the original picture. I think this calls for an obligatory bust comparison: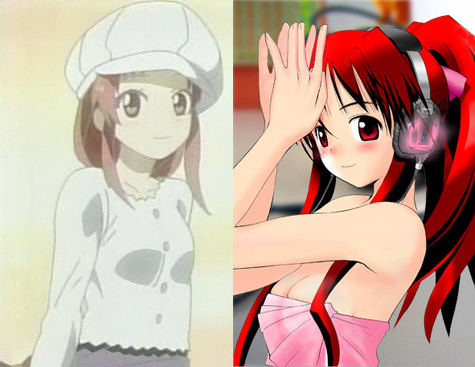 I can't really say that I like Matsumaru. He kinda seems like a scumbag. First he's kind of a jerk to Aku, and then he takes advantage of her while she's still emotional from her house being burned down. Seriously, is this a good way to start off? I guess we're supposed to feel sorry for him, but his conduct is totally uncool.
The OP is sung by the seiyuu for Aka, who does a pretty good job. Though the melody is kind of unorthodox, the song is still catchy and cute. I like it. There's an ED listed on ANN, but I didn't see it on the raw or the sub that I watched.
Listen to the OP: Cheer~Makka na kimochi~ by Kanako Sakai
Overall, I'm kind of split with this anime. On one hand, Aka is really cute and adorable, so I want to keep watching and see what happens. On the other hand, Matsumaru is such a jerk that I don't want to see Aku end up with him. REC is only 9 episodes long at 12 minutes each, so I guess there's really no reason for me to stop watching. Hopefully Matsumaru will redeem himself.