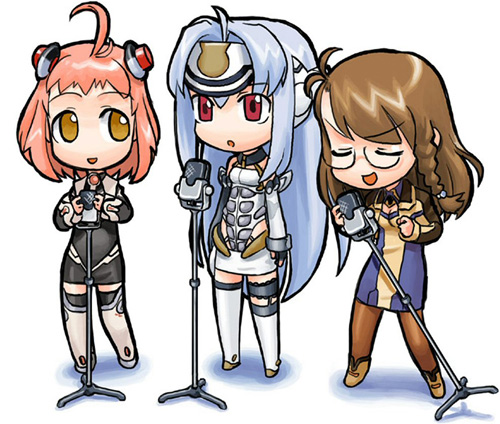 The karaoke contest deadline passed, was extended, and has passed again, so now it's time to vote on the best entries! I received quite a bit of last minute entries, so I'm glad that I extended the deadline.
I'm really happy with all of the entries that were submitted. I had to double check some of the entries to make sure they were actually karaoke, and not the original (seriously!). Thanks to everyone who entered. You're all winners in my book!
Without further ado, here are the entries for the 1st Annual Basugasubakuhatsu Karaoke Contest (in the order that they were received):
Artist: Shuichiro
Title: Life is Like a Boat
Audio clip: Adobe Flash Player (version 9 or above) is required to play this audio clip. Download the latest version here. You also need to have JavaScript enabled in your browser.

Anime: Bleach
Artist: Paul Chn
Title: Canvas
Audio clip: Adobe Flash Player (version 9 or above) is required to play this audio clip. Download the latest version here. You also need to have JavaScript enabled in your browser.

Anime: Eureka Seven
Artist: ProxyM
Title: Yubiwa
Audio clip: Adobe Flash Player (version 9 or above) is required to play this audio clip. Download the latest version here. You also need to have JavaScript enabled in your browser.

Anime: Escaflowne
Artist: kristalyamaki
Title: Start Line
Audio clip: Adobe Flash Player (version 9 or above) is required to play this audio clip. Download the latest version here. You also need to have JavaScript enabled in your browser.

Anime: Suzuka
Artist: SJ
Title: Fly Me to The Moon
Audio clip: Adobe Flash Player (version 9 or above) is required to play this audio clip. Download the latest version here. You also need to have JavaScript enabled in your browser.

Anime: Neon Genesis Evangelion
Artist: MrLostman
Title: Last Regrets
Audio clip: Adobe Flash Player (version 9 or above) is required to play this audio clip. Download the latest version here. You also need to have JavaScript enabled in your browser.

Anime: Kanon
Artist: Asuka
Title: Houki Boushi
Audio clip: Adobe Flash Player (version 9 or above) is required to play this audio clip. Download the latest version here. You also need to have JavaScript enabled in your browser.

Anime: Bleach
Artist: Kaika
Title: Hearts
Audio clip: Adobe Flash Player (version 9 or above) is required to play this audio clip. Download the latest version here. You also need to have JavaScript enabled in your browser.

Anime: Star Ocean EX
Audio clip: Adobe Flash Player (version 9 or above) is required to play this audio clip. Download the latest version here. You also need to have JavaScript enabled in your browser.

Anime: Ayashi no Ceres
Artist: Atashi
Title: LoveLoveLove no Sei na no yo!
Audio clip: Adobe Flash Player (version 9 or above) is required to play this audio clip. Download the latest version here. You also need to have JavaScript enabled in your browser.

Anime: Lovedol ~Lovely Idol~
Artist: LianYL
Title: Brand New Reason
Audio clip: Adobe Flash Player (version 9 or above) is required to play this audio clip. Download the latest version here. You also need to have JavaScript enabled in your browser.

Anime: Innocent Venus
Artist: tj han
Title: Ichigo Complete
Audio clip: Adobe Flash Player (version 9 or above) is required to play this audio clip. Download the latest version here. You also need to have JavaScript enabled in your browser.

Anime: Ichigo Mashimaro
Artist: Sana Jisushi
Title: Moon Revenge
Audio clip: Adobe Flash Player (version 9 or above) is required to play this audio clip. Download the latest version here. You also need to have JavaScript enabled in your browser.

Anime: Sailor Moon
Artist: CalAggie
Title: Hanabi
Audio clip: Adobe Flash Player (version 9 or above) is required to play this audio clip. Download the latest version here. You also need to have JavaScript enabled in your browser.

Anime: Bleach
Artist: Omo
Title: Grand Blue
Audio clip: Adobe Flash Player (version 9 or above) is required to play this audio clip. Download the latest version here. You also need to have JavaScript enabled in your browser.

Anime: Tenshi na Konamaiki
Artist: Naddie
Title: Daichi no la-li-la
Audio clip: Adobe Flash Player (version 9 or above) is required to play this audio clip. Download the latest version here. You also need to have JavaScript enabled in your browser.

Anime: Scrapped Princess
Artist: Karin
Title: Yasashii Gogo
Audio clip: Adobe Flash Player (version 9 or above) is required to play this audio clip. Download the latest version here. You also need to have JavaScript enabled in your browser.

Anime: DNAngel
Artist: Langknow
Title: Aka no Seijaku
Audio clip: Adobe Flash Player (version 9 or above) is required to play this audio clip. Download the latest version here. You also need to have JavaScript enabled in your browser.

Anime: Shakugan no Shana
You can download all of the entries as a compressed rar, or get them via bittorrent. I have tons of bandwidth, but I figured I should try and do the bittorrent thing to conserve anyway.
SJ submitted a karaoke version of Fly Me To The Moon. While technically, the song was in an anime, I don't really consider it an anime song in the spirit of this contest. He went to the trouble of entering though, so I'll post it, but it won't be in the running.
I tried linking to the websites of the entrants when I knew their urls. If you entered and you'd like a link to your website, email me and let me know so I can add a link to your blog or whatever.
Voting starts right now and ends at midnight on January 1st (or whenever I remember to end the voting), so vote early! The winners will be finalized and prizes will be sent!
Thanks again to everyone who took the time to record an entry. For the most part, the quality of the songs were above anything I had ever expected. Good luck to all the entrants!