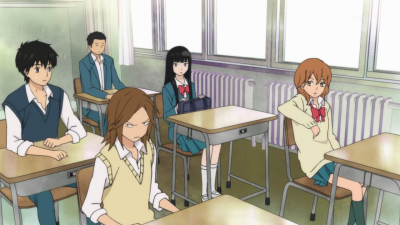 So I watched another episode of Kimi Ni Todoke. It seems that the major force that will drive conflict in this story is the misunderstanding between Sadako and the dude (still can't remember his name). Apparenlty Sadako really only had feelings of respect and admiration for the guy, and the guy kinda actually liked her. But come on! He chooses to sit by her in class, goes up directly to her to talk with her, etc.
They could really just hook it up already! But maybe that's unrealistic since they're moody high school kids with insecurities.
Also, I think that Ryu guy wants Sadako and is more her type: quiet and introverted.