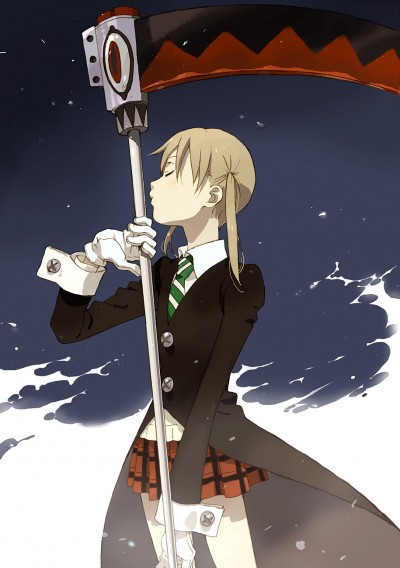 So continuing my very late first impressions of anime that are really far along already, I watched the first episode of Soul Eater. I actually told myself at one point that if I were to watch an anime from the Spring season, it'd be this one. It seemed to look the best of all of them.
Anyway, Maka is a female meister (does that mean "mister" or "master" in German?) who uses Soul to kill demons. Soul is a scythe, but he also takes the form of a human. Sometimes he's also half-human half-scythe, which looks pretty funky. He needs to eat 99 demon souls + 1 witch soul to become a super weapon. And he's already at 99 at the beginning of the episode.
It appears, then, that Soul Eater is going to be a really short series. But Maka and Soul make a mistake and end up eating a cat's soul instead. Back to the drawing board… I kinda like the idea that we start in the middle of where the story might end, then do a "reset end" so we can avoid any potential resets later in the series. Unless the author is just a sadist.
What kind of weirds me out is the cartoony world of the meisters. The sun and moon look really wacky and there's a cg castle. Also, Maka's dad seems to be a version of the ultimate weapon that Soul is trying to become. So that means her mom is a meister as well? And um… weapons and humans can procreate? Weird. So I guess Maka and Soul could be an item… except that Soul doesn't like the flat-chested type. The whole making babies with your weapon thing sounds like it could open the door for some really weird fan-fic.
Anyway, the first episode of Soul Eater was passable, I suppose. The character designs are good but the animation itself is kind of choppy. Or maybe it's just because I encoded the thing to play on my iPhone… That could definitely be it. The juxtaposition between the wacky shinigami world and the serious demon killng doesn't really work for me either. I'd prefer all wacky or all serious or maybe a lot of serious and a little wacky.
I'm quickly running out of anime to watch while doing my daily workout, so these belated first impressions posts could get sparse until I can get back to the mothership and encode more stuff.