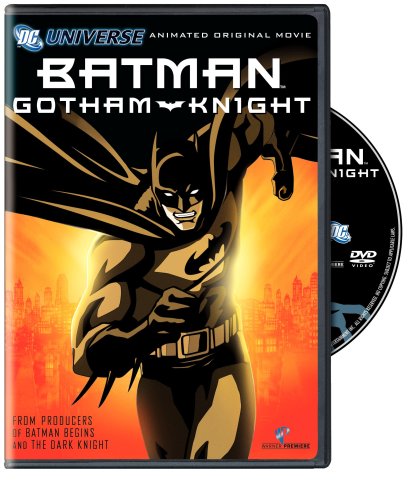 If you're like me, you're totally psyched about The Dark Knight. One way to relieve that Batman pressure building up in your body (besides watching Batman Begins over and over again) is to check out Batman: Gotham Knight. You know, that Batman anime? (Batmanime?)
Gotham Knight is a collaboration between DC Comics and a bunch of Japanese animation studios. The stories sort of go together in order, but there are also some segments that can stand alone as well. This threw me off a bit while watching, since the end of one section seemed unresolved until I realized it was "continued" in the next part.
What's interesting is that the different segments have different studios associated with them, and hence, have differing stylistic properties. The first one, "Have I Got A Story For You," is done by Studio 4°C in superflat. "Field Test" actually looks kind of shoujo. The other ones fall somewhere near the "normal-looking" anime category, whatever that might be.
So with a bunch of studios all doing different parts of the story, you'd expect a pretty inconsistent experience. And that's sort of what you get. The first part is humorous, and the superflat definitely helps. The other parts are more serious, though it's hard to take things seriously when Batman looks different every few minutes.
Out of all of the sections, I'd say the last one (with Batman vs. Deadshot) is probably the best. The others don't have the same amount of action. There's an issue with too much exposition and not enough of Batman kicking ass. He actually doesn't show up on the screen very much in the first few parts.
An interesting thing about the DVD (I'm reviewing the single disc version) is that a bunch of languages are available, including Japanese and Spanish. Since I'm so used to watching anime in Japanese, I figured I'd try it out and see what Batman sounds like. I probably should've gone with the English version since the guy who did Batman in the animated series (Kevin Conroy) reprises his role in Gotham Knight. Still, hearing a Japanese Batman does have its own novelty value.
Overall, I'd say that Batman Gotham Knight is acceptable, but a bit too overachieving for its own good. While watching it, I thought to myself "this is pretty cool for a Batman anime" while I should have been thinking "this is pretty good for Batman." It feels like the producers were a bit too happy with themselves making Batman into an anime that they forgot about things like "storytelling" and "consistency." Pair this with the fact that the original Batman animated series was completely awesome and it's very easy to be disappointed with Gotham Knight. Also, no Mark Hamill as the Joker? No Joker at all? Boo!!!
If you're really hurting for Batman stuff while you're waiting for The Dark Knight, I'd suggest checking out the first season of the original animated series. Gotham Knight is okay, but the novelty of it being animated by Japanese studios wears off pretty quickly.
Thanks to Warner Bros. Home Video for sending me a review copy of Batman Gotham Knight.