I'm continuing to use the first episodes of this season to procrastinate doing meaningful graduate work! Yay! I heard that Special A was sort of like Ouran, so I was stoked to see it get subbed.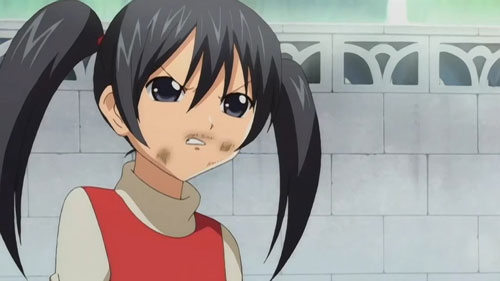 Special A is about an outstanding young girl by the name of Hikari. She's been trained from an early age to do pro wrestling. By pro wrestling, I'm pretty sure they mean real wrestling and not the fake American stuff like with Hulk Hogan. You can see her here growing some facial hair. It's a little patchy but so is mine.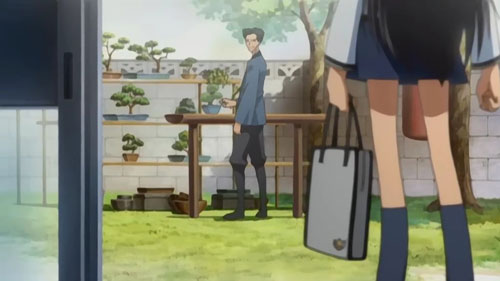 As you can see, the characters all have pretty long limbs. It's sort of like xxxHolic, except worse. Or better if you're into really long limbs.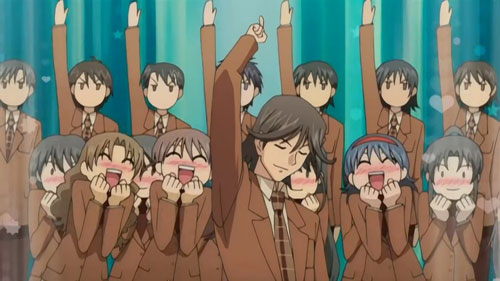 Hikari happens to be a Special A of her school, which makes her a BWOC. Men want her; women "kyaaa" in front of her. It's all very shoujoy.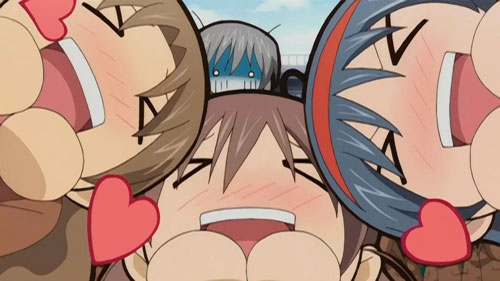 I don't care what you say; girls yelling "kyaaaa" and "sutekiiiii" and doing the XD face are moe. And I'll never get tired of it.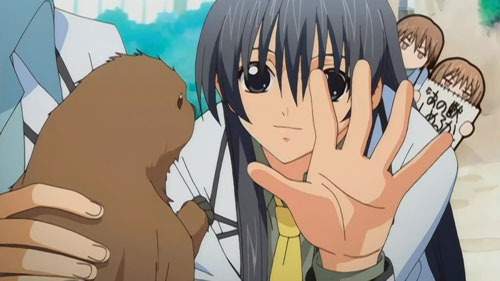 Over at Special A HQ, Hikari tries petting a sloth. Don't try this at home, kids! Sloths have freaking dangerous claws! You can also see some other members in the background, including the girl who doesn't talk but uses a sign to communicate instead. I guess that's sort of moe.
The Special A basically live in a terrarium separated from the rest of the school. They wear different uniforms and apparently just drink tea and eat snacks all day. It's like if Ouran existed as a subset of a normal school. Actually, now that I think of it, Special A reminds me more of Gokujou Seitokai than Ouran.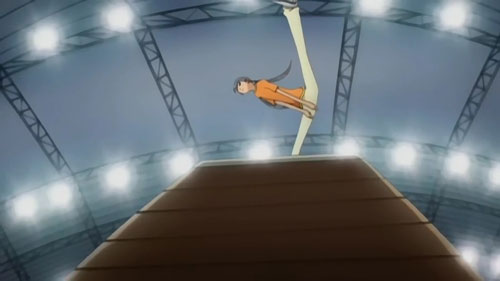 Things get kind of crazy when Hikari and Takishima start battling. Takishima is her childhood rival who happens to be #1 at the school. Hikari is #2, so he routinely taunts her about it. Here you can see one of the reasons that Hikari is so popular at the school! What, no bloomers?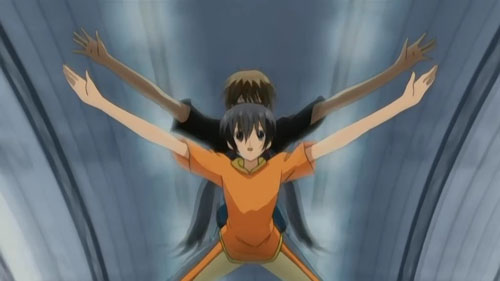 I'm pretty sure Takishima stole this move from Sasuke Rock Lee. (Thanks, Author!)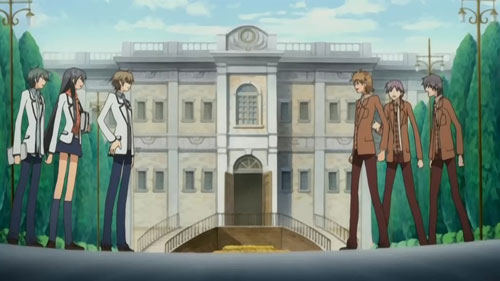 The main plot point of this episode is that the proletariat get upset with the Special A. It makes sense, too, if you think about it. I'd be pretty pissed off if they had a group of top students who just drank Darjeeling tea all day live in a specially equipped terrarium wearing special uniforms and I was just a normal student.
I also like how the normal students are like, "you look down on us!" and the Special A are like, "don't waste your time listening to them!" It's true, they do look down on them!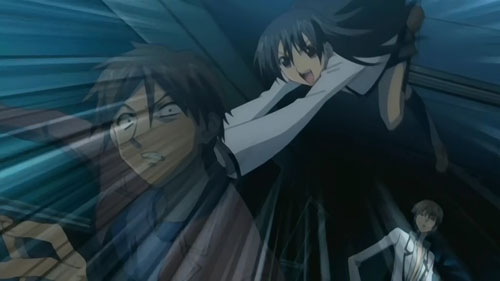 Luckily, complicated social issues are best remedied with physical violence. Where's Takishima looking?
Overall, I guess this anime is not too bad. Especially compared to the other crap going on this season. This shoujo series should play pretty predictably, but sometimes you need that shot of predictability in an ever-changing world. Or maybe I just like it when girls do the XD face and yell "KYAAAAHHH" a little too much.