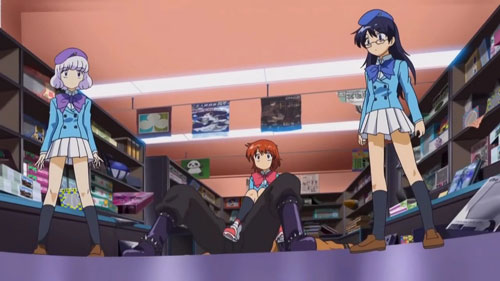 For some reason I thought Zettai Karen Children was some kind of sequel to Zettai Shounen, but apparently it's its own series. The second mistake was that I thought Karen was a character in this show, but "可憐" can mean both pitiful and lovely, which actually describes these kids pretty well.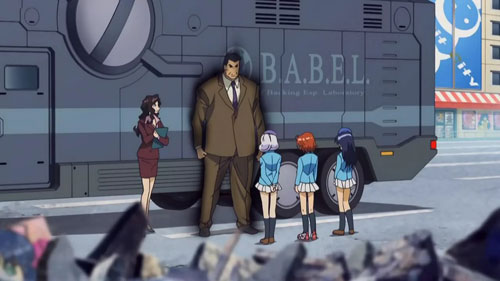 Kaoru, Aoi and Shiho are a team of esper fighting esper children! That's right, in the future, there are espers, and the way to fight espers is with espers! I think I've written the word "esper" down entirely too much.
They're kind of reckless at fighting, seeing as how they demolished a few buildings trying to catch a Muscle Okama dude. Above, you can see the chief getting mad at them.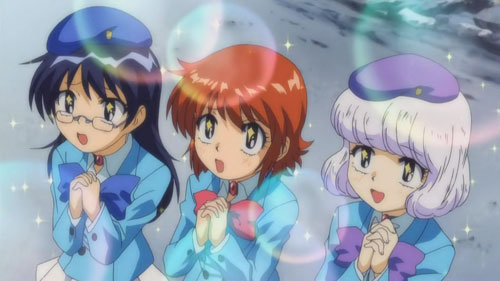 But because they're cute…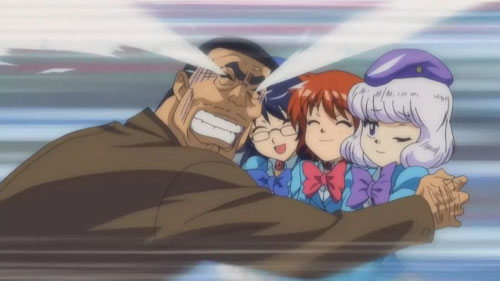 The chief kind of spoils them. Expect this to be a running "gag" for the rest of the series.
I forgive them since they're cute, too. For everything but the cringingly bad OP. Seriously, it sucks. A lot. Speaking of sucking a lot: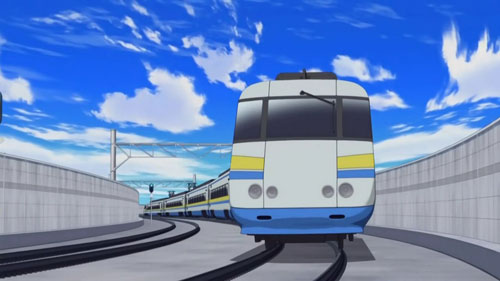 Whenever I mention CG, I use the word "bad" in front of it. But I think maybe in the future, I'll just mention CG and it'll be assumed I'm talking about bad CG. Because CG in anime is almost always never good.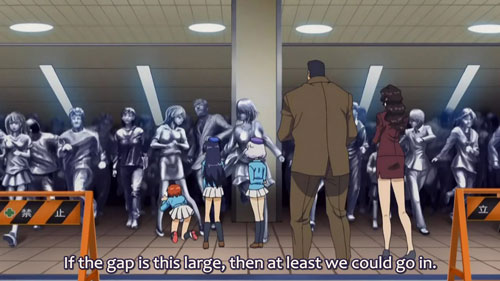 This screencap wins for best unintentional (or maybe intentional) double entendre of the season. I say it might be intentional because Kaoru's character acts like an old perverted man. Which is okay, I guess.
Anyway, for the rest of the episode, the girls chase down this muscle okama guy and meet up with a weak dude from their organization. The girls are sort of treated as weapons, first and foremost. Their collars limit their psychic activities until they can be unlocked. My question always is: if they can develop technology to limit psychic power, can't they create technology to enhance psychic power as well? So everyone has psychic powers?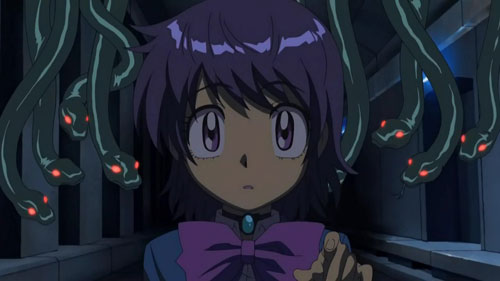 Snakes in a subway. I know, they needed snakes so they could do some borderline hentai tentacle stuff with the kids. But isn't that taking the easy way out? Why not steal large flightless birds from the zoo and have them fight the protagonists or something?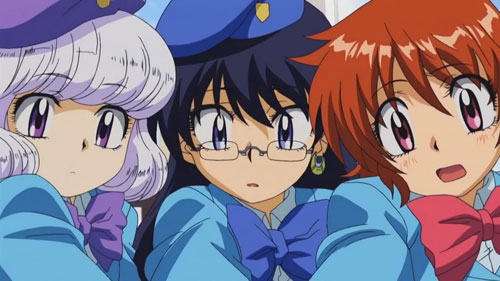 Anyway, I don't have much to say about this anime because it didn't really hold my attention too much. It kind of feels like if they made the Powerpuff Girls into an anime but changed the characters to be annoying. What's that? They DID make an anime version of the Powerpuff Girls!?
The characters are all a bit too annoying for me to handle. I mean, Aoi is cute, but Kaoru is really annoying and I am having problems with the weak dude father figure. Inevitably the series will touch upon issues like the Zettai Children being used for their powers to fight their own kind, the feelings of the members toward their new manager, and other stuff that probably happened on X-Men at some point.
But since I'm pretty sure I can accurately predict the future of this anime, I might as well just not watch it and know what happens. Where's my Potemayo/Minami-ke of this season!?