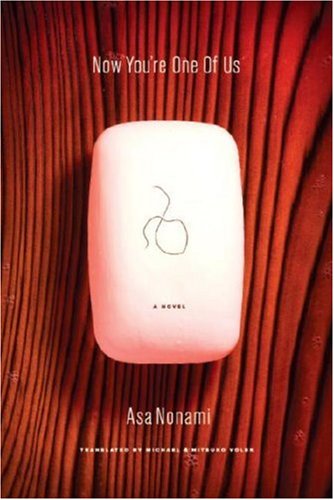 In addition to releasing a bunch of classic manga (including stuff by Tezuka), Vertical also does translated Japanese literature. I had no reading material for my flight back home for the holidays, so this was a welcome package, even though it doesn't have any pictures, rendering it a "heavy novel."
The Company Says:
It is said that marriage is about compromise, and no one understands this more than newlywed Noriko, who marries into the well-established Shito family. Four generations, eight in-laws—all under one roof—is an untenable proposition, unsettling at best for any bride, but Noriko's new family members are sweet and caring. Living with them is a delight, and Noriko seems to have the perfect marriage.
Yet, the appearance of a disheveled man—asking suspicious questions about her new in-laws—plants a seed of doubt in Noriko's mind, while she is hanging laundry one morning. Paranoia grows. The unusual behavior of her new family, which she once perceived as charming eccentricities, now appear to be sinister in nature. Their kind smiles, once filled with warmth, now disguise dark secrets. As Noriko delves deeper into the family's machinations, she awakens to the horrifying reality of "marital compromise."
Review:
Allow me to fall back on that one Japanese Culture course I took a while back during my undergrad! Japanese culture is pretty weird. One of the defining traits of Japanese culture is the pervasive idea of Uchi vs. Soto, being within a group or outside of it. While this idea usually pertains to the plight of the Gaijin/Weeaboo who wants to fit into Japanese society, it can also be used to describe the relations within groups of Japanese people. One of the more common ways that a person is taken into an outside group is by marriage, and this is just what happens to Noriko.
A series of strange coincidences leads Noriko to believe that the family that she has just married into has murdered a man and his family. As Noriko goes deeper and deeper into the inner workings of the family, more and more strange things happen. The only person she can really confide in is her old high school friend, Tomomi. Inexplicably, when things get really weird, Noriko feels she has no way out.
This is what makes the story a uniquely Japanese one. In American culture, we'd expect our heroine to say "screw this family, I'm getting a divorce!" Not so in Japanese culture. Apparently, getting a divorce is so bad that the alternative, living with a psychopathic family, is preferred. Time and time again, Noriko allows herself to be used and abused by the family. Okay, so maybe the psychoactive mushrooms she ate had something to do with it, but still, I find it hard to suspend my disbelief when Noriko keeps coming back instead of seeking asylum with her parents.
There are certainly enough strange occurrences to make Noriko suspicious. Strange incestuous behavior between two of the family's siblings, suspiciously discrete visits to the great-grandmother by all the townspeople, family members with disabilities that vanish when Noriko isn't watching, not to mention the late night family meetings that take place when they think Noriko is asleep! Get a clue, Noriko! RUN AWAY!!!
Though the story begins as a really intriguing mystery (from the very beginning, the strangeness of the family is foreshadowed), it ends disappointingly. I think the path that the story takes is also indicative of Japanese culture. Americans like happy endings or tradgedies. Stories that have no real moral end don't fit into our culture. The ending, while revealing and sickening at the same time, doesn't resolve the way a story "should" resolve. It feels empty, and I questioned why I even bothered reading the book in the first place.
I like the psychological mystery and unique Japanese perspective in this novel, don't get me wrong. My previous studies in Japanese culture (not that I'm claiming I'm an expert on the subject) give me a good idea of why things happen the way they do. Unfortunately, it isn't enough to change the way I feel about the story's direction. Perhaps I really do need to be "one of them" to enjoy this novel fully.